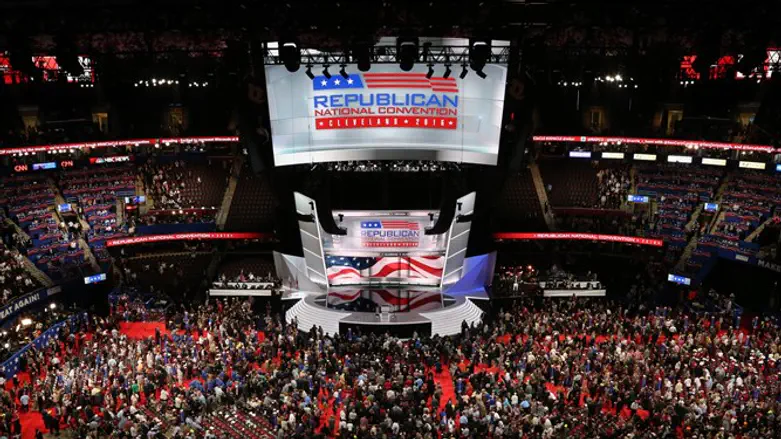 Republican National Convention
Reuters
The Orthodox rabbi who serves as chaplain to the Cleveland police delivered the invocation at the start of the Republican National Convention in Cleveland.
Rabbi Ari Wolf, who also works as an administrator for the haredi Orthodox Telshe Yeshiva in the Ohio city, was a last-minute stand-in, according to Matzav.com, which first reported his invitation to the convention. Wolf replaced the prominent Manhattan modern Orthodox Rabbi Haskel Lookstein, who withdrew Friday, three days before the convention began.
In the invocation Monday afternoon, Wolf asked for God's blessings for the convention, and for God's protection as America faces threats at home and abroad.
"We ask your blessings on our country and our people," Wolf said. "We seek your guidance and continued protection. Dear God, we live in perilous and dangerous times. Today, our beloved country is under attack, our family values, our moral principles and even our very democracy is threatened."
Wolf's invocation also nodded to the recent killings of police officers in Baton Rouge, Louisiana, and Dallas. He asked for God to "watch over and safeguard our police officers and all our first responders who work each day and night in every city, town and hamlet of our great nation to protect us and our freedoms.
The rabbi began and ended the invocation in Hebrew. He referred to God at the start as "avinu she'bashamayim," our heavenly Father, and ended with the three-verse priestly blessing asking for God's protection and peace.
Lookstein had accepted the invitation as a gesture to Ivanka Trump, whose Jewish conversion he oversaw, and whose father Donald Trump is the presumptive Republican presidential nominee. But following intense pressure from alumni of the Ramaz School, the elite Manhattan Jewish prep school he once ran, Lookstein withdrew.
"Unfortunately, when my name appeared on a list of speakers at the convention, without the context of the invocation I had been invited to present, the whole matter turned from rabbinic to political, something which was never intended," he wrote in a letter Friday to his community. "Like my father before me, I have never been involved in politics. Politics divides people."
Lookstein's invocation, whose text he released, seemed to give a subtle rebuke to Trump's rhetoric. The invocation would have asked God's protection from threats "from within, by those who sow the seeds of bigotry, hatred and violence, putting our lives and our way of life at risk."