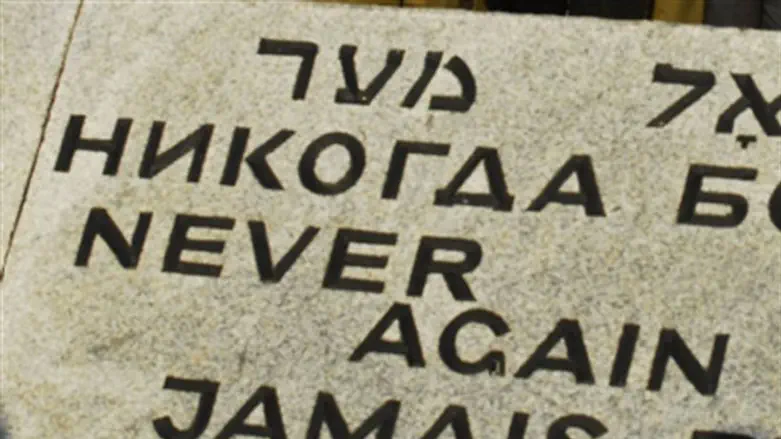 Holocaust memorial (illustration)
Flash 90
Three World War II monuments in Germany and another Holocaust memorial in Belarus were vandalized.
The cases were reported earlier this month. No arrests have been made.
In Belarus, a tour guide reported seeing doused yellow paint on a statue commemorating the mass murder of Jews in the Minsk Ghetto, which German occupation forces established 75 years ago and imprisoned 100,000 Jews.
The monument, a depiction of men, women and children descending into a pit, commemorates the shooting on March 2, 1942 of about 5,000 Jews from the ghetto. At least 50,000 Jews are believed to have perished there.
In the former East German state of Thuringia, vandals using pink paint defaced a memorial at a subcamp of the Mittelbau Dora concentration camp with the numbers "9201." Police said they did not know what the numbers meant but were investigating the vandalism. Mittelbau Dora was a satellite camp of Buchenwald, where tens of thousands of Jews were imprisoned before and during the Holocaust.
Also in the former East Germany, in the state of Brandenburg, firecrackers destroyed an information board at the open-air exhibition in Jamlitz commemorating the victims of the concentration camp that was there before 1945 and the special Soviet prison for low-level Nazi party functionaries set up after the war. It was the third time in three months that vandals destroyed information boards at the site, apparently using the same methods.
The director of the Foundation for Brandenburg Memorials, Gunter Morsch, said that security was inexcusably lax at the site; police reportedly drove by at irregular intervals.
"Given that we clearly have repeat offenders here, we need security guards immediately," he told the German news media.
In Cologne, white paint was used to deface a brass plaque dedicated to the grandfather of local Jewish writer Peter Finkelgruen-Martin, who died in 1942 in the Theresienstadt concentration camp near Prague. According to reports, insiders suspect local right-wing extremists from the nearby town of Zollstock. Plans are under way to replace the plaque.
"It took four years and four months since the memorial was dedicated until the first vandalism," Peter Finkelgruen, who lives near Cologne, said in the local media.