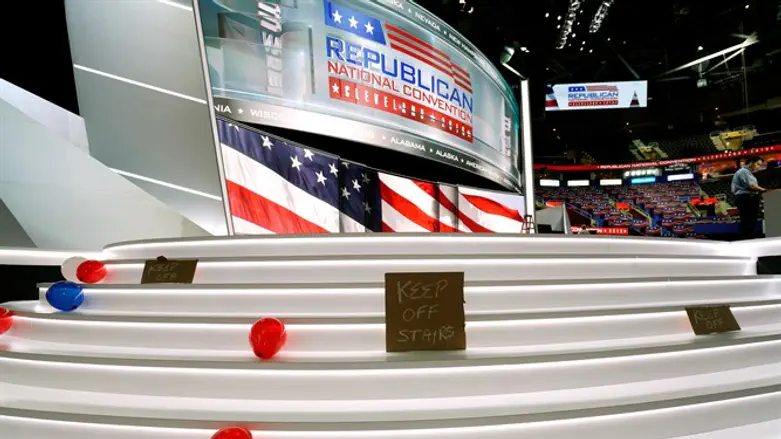 Republican National Convention in Cleveland
Reuters
Rabbi Haskel Lookstein, the rabbi who oversaw Ivanka Trump's conversion to Judaism, has withdrawn from speaking at the Republican National Convention next week, JTA reported Friday.
In a letter to members of his community, Lookstein wrote that he had accepted Ivanka Trump's invitation to deliver an invocation at the convention "out of respect for her and our relationship."
But, he added, he would withdraw because the matter had become political.
"Unfortunately, when my name appeared on a list of speakers at the convention, without the context of the invocation I had been invited to present, the whole matter turned from rabbinic to political, something which was never intended," he wrote, according to JTA.
"Like my father before me, I have never been involved in politics. Politics divides people," he added.
Earlier this week, Israel's Supreme Rabbinical Court ruled that the conversions performed on his own by Rabbi Lookstein will not be recognized.
The ruling by the country's highest officially recognized religious court upheld a decision made last week by the Petah Tikva District Rabbinical Court, which held that conversions performed privately by Rabbi Lookstein were not to be recognized in Israel.
But Israel's Chief Rabbinate said later it will continue to recognize conversions performed by Rabbi Lookstein.
"The position of the Rabbinate remains the same as was written [in recent letters by the Chief Rabbis], that it recognizes the conversions performed by Rabbi Haskel Lookstein," it said.
The storm centered around a case involving a female convert from the United States whose conversion was performed privately by Rabbi Lookstein and not vetted by the U.S. Rabbinical Council of America's Geirut Policies and Standards (GPS) conversion courts, which have an agreement with the Israeli Rabbinate on conversion recognition. Converts who do not go through that procedure are scrutinized individually in Israel.
Rabbi Lookstein also performed the conversion of Ivanka Trump prior to her marriage to Jared Kushner. However, since that was done under the aegis of GPS, it is not questioned by the Rabbinate in Israel.
Rabbi Lookstein is the former head of school at the Ramaz School, an elite Jewish prep school, and the former rabbi of Kehilath Jeshurun, a Modern Orthodox synagogue on Manhattan's Upper East Side.
His decision to appear at the Republican convention was widely seen as an endorsement of Donald Trump's Republican candidacy, and sparked backlash.
A petition started by Ramaz alum Jacob Savage Thursday, calling on Lookstein to back out of the convention, had garnered nearly 750 signatures by Friday morning. The petition castigates Trump for his rhetoric and admonishes Lookstein for "embracing" it, according to JTA.
(Arutz Sheva's North American desk is keeping you updated until the start of Shabbat in New York. The time posted automatically on all Arutz Sheva articles, however, is Israeli time.)