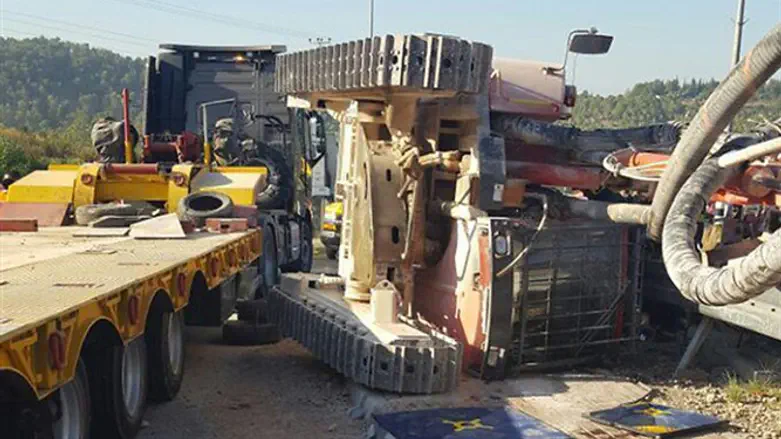 Scene of the accident
Judea-Samaria rescue workers
A traffic accident near the entrance to Hashmonaim left a woman and four-year-old child trapped under a tractor, after the vehicle fell off of a truck.
Rescue workers extracted the child, who was severely wounded and unconscious. She was quickly evacuated to Tel Hashomer Hospital.
The 40-year-old woman is in severe condition, though conscious. She has also been taken to Tel Hashomer Hospital with wounds to her stomach and chest.
The route between the community of Nili and Hashmonaim is completely blocked.
In addition, a woman was killed and eight people injured when two vehicles crashed on Highway 90, near Arava Junction.
MDA first responders arrived with three mobile emergency care units, five ambulances and helicopters. Four of the victims were in moderate condition and four lightly injured. The paramedics tried to resuscitate the final victim but were forced to declare her dead.
On Monday night, two men in their 20s were killed after their car overturned on Route 264, near the moshav Shuval. MDA paramedics were called to the scene and tried to resuscitate the pair without success.