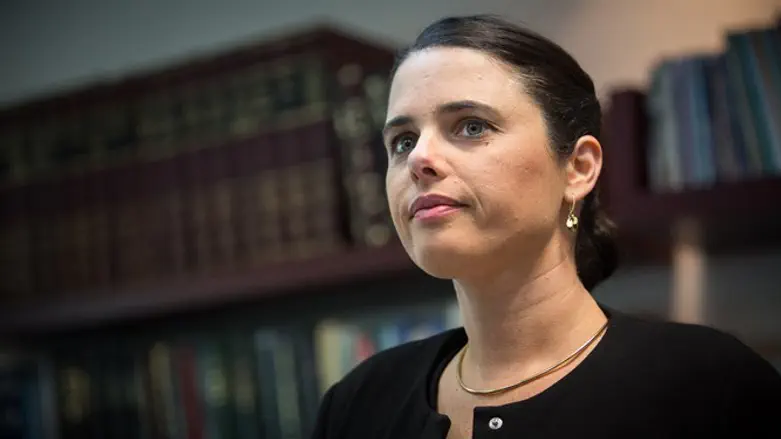 Ayelet Shaked
Yonatan Sindel/Flash 90
The Knesset approved on Monday night the second and third readings of the so-called "Transparency Law", authored by MKs Robert Ilatov (Yisrael Beytenu), MK Bezalel Smotrich (Jewish Home) and Justice Minister Ayelet Shaked (Jewish Home).
The law is intended to bring greater transparency to NGOs by requiring them to disclose significant sources of funding from foreign governments.
It passed by a majority of 57 MKs who voted in favor and 48 who voted against.
Under the law, non-profit organizations or public benefit companies whose main financing comes from a foreign political entity, including state funds, will be obligated to report this in their financial statements.
In addition, the NGOs will be obliged to mention this information prominently in their publications on billboards, in television ads, in newspapers, on the homepage of their website or online campaign. They will be obliged to prominently note this information in written appeals to a civil servant or elected official; and prominently note this in reports that are distributed to the public. Violation of one of these clauses may result in a fine of up to 29,000 shekels.
Minister Shaked said following Monday's vote, "Today the Israeli Knesset said 'no' to gross interventions of foreign states in the internal affairs of the State of Israel."
"Just as the State of Israel refrained from intervening in the referendum in the UK, so do I expect that other countries will respect the independence of the State of Israel. And if not – that at least a nonprofit organization funded by foreign governments will be exposed to the Israeli public. We will not allow such a blatant intervention without revealing the sources of foreign funding, and bringing them to the attention of the public and its elected representatives," she continued.
MK Robert Ilatov welcomed the passing of the bill and said, "This is Israeli democracy, this is an ideological victory. The phenomenon of organizations that undermine the State of Israel, while promoting interests that do not coincide with Israeli interests under the guise of naive human rights organizations, is dangerous for democracy and the State of Israel."
"It is unthinkable that these organizations receive millions of shekels annually and are working against the existence of Israel, promote foreign goals while unregulated and uncontrolled, and as a bonus also receive a tax exemption. I'm glad the bill passed," he added.
MK Nissan Slomiansky (Jewish Home), chairman of the Knesset's Constitution, Law and Justice Committee, said, "Anyone who wishes to influence the public agenda in Israel must be transparent. It is unthinkable that foreign countries will hide behind associations and organizations that work on behalf of interests that do not match the interests of Israel. From now on everything will bee on the table, everything will be visible."
"It is the public's right to know in whose name these non-profit organizations speak and understand their intentions. We should all welcome the fact that the disclosure obligations have been expanded; transparency is not a curse but a blessing," added Slomiansky.