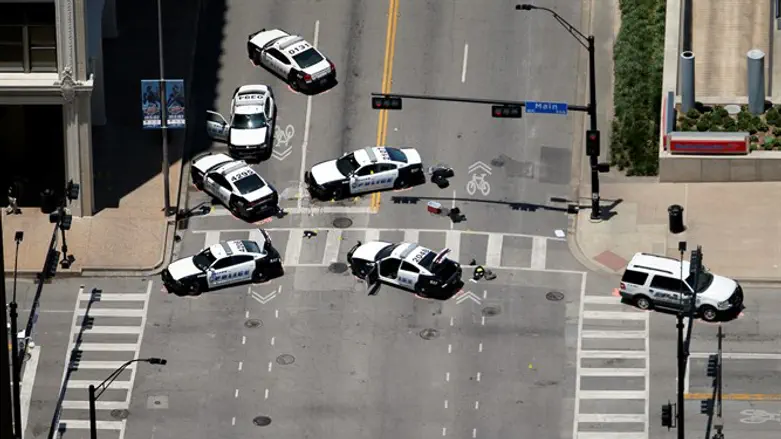 Site of Dallas shooting
Reuters
New details continue to emerge about Dallas shooter Micah Xavier Johnson, who shot and killed 5 policeman and wounded 9 others, at a protest in the Texas city on Thursday night.
Neighbors in Mesquite, Texas, where Johnson had been living, told the Dallas Morning News that Johnson had been seen doing army-style drills in his yard. Police found a large amount of weaponry upon searching Johnson's apartment, including bulletproof vests, ammunition, and materials for building bombs.
Johnson, 25, was a former US soldier, who had performed one tour of duty in Afghanistan. During the standoff with police on Thursday night, Johnson had time to tell them that he was angry about cops shooting black men, and wanted to kill whites, especially cops, before police managed to kill him with a remotely controlled "killer-robot" armed with an explosive device.
Johnson was an expert sniper, and served in the army reserves from 2009-2015. He was discharged from the army under mysterious circumstances, though there are reports stating that he was accused of sexually assaulting a female soldier.
Myrtle Booker, 62, a family friend, said that Johnson "wasn't the same guy since he came back from the war. He was very withdrawn, didn't want to talk to people anymore, didn't believe in God anymore. But all this hatred for whites, that wasn't something we knew about."