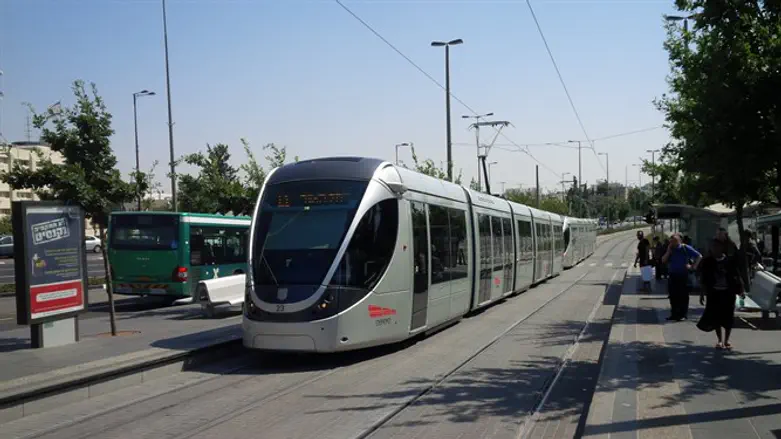 Jerusalem Light Rail
Meir Sela
The Jerusalem district prosecutor and the state prosecutor's civil enforcement division have filed suit against two 17-year old Arab stone-throwers over damages the two caused to a Jerusalem light rail train.
The lawsuit against the two, which totals 6,912 shekels ($1,780), is intended to cover the cost of replacing a window which was smashed when the defendants hurled rocks at a passing train. If the suit is successful, the attackers will be required to pay the state, which had compensated the company operating the light rail.
In the claim the plaintiffs write that "the defendants, with their aforementioned actions, acted with the intention of causing damage to the light rail train operating in Jerusalem, linking the northern part of the city to the center and south."
"In this way, the defendants sought to harm public security and disrupt the peace and to discourage use of the train as a means of transportation. Because of these actions the state was forced to cover their cost of the damages, a total of 6,912 shekels. As such, the defendants ought to repay that amount to the plaintiff."
The state prosecutor emphasized that the suit is part of a larger plan to increase enforcement efforts against those who disturb the peace, with the aim of reducing stone-throwing attacks, which have discouraged use of the Jerusalem light rail system in the city's northern neighborhoods.
"The state will continue to file lawsuits like this one in any suitable case in order to discourage continued violations of the law such as this that harm the rule of law, and in order to reimburse the public coffers for the large amounts spent by the state because of these nationalistic crimes."