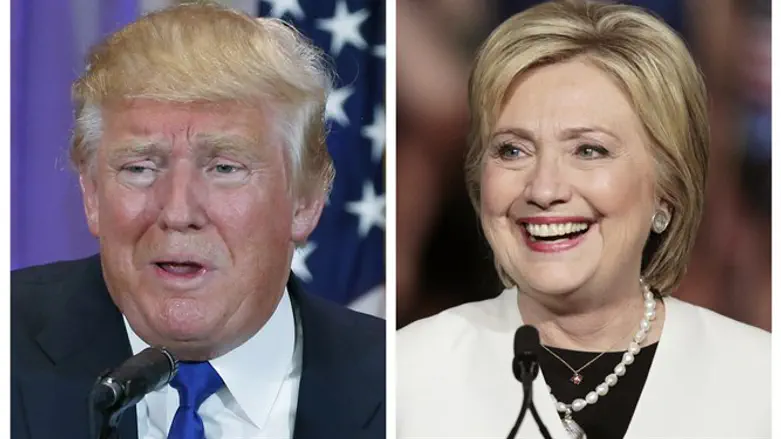 Donald Trump and Hilary Clinton
Photo: Reuters
(JTA) -- The Anti-Defamation League and 27 other Jewish social justice organizations penned a forceful open letter imploring political candidates to put an end to the racism, anti-Semitism and xenophobia they say has emerged in this year's campaign.
Although the letter released Thursday does not mention a candidate by name, it comes during a week in which Donald Trump has fended off charges of sharing a tweet, perceived by some as anti-Semitic, that originated on a far-right internet bulletin board. The letter also alludes to affronts to Muslims, Syrian refugees and Mexicans, all of whom have been singled out by the presumptive Republican candidate during his presidential campaign.
"We are deeply concerned by suggestions that Muslim Americans should be targeted by law enforcement, simply because of their faith," according to the letter. "We object to hurtful characterizations of entire ethnic groups as criminals. We are pained by anti-Semitic epithets hurled at Jewish Americans on social media."
Organized by the Jewish Social Justice Roundtable, a coalition of Jewish organizations, the open letter's signers include HIAS, the Religious Action Center of Reform Judaism, Jewish Council for Public Affairs, National Council of Jewish Women, and groups representing the Conservative and Reconstuctionist denominations.
"We share a belief that public figures, including those who aspire to hold elected office in service to people of all races and religions, have a responsibility to forcefully and unequivocally condemn these dangerous phenomena," the letter said.
The letter invokes the experiences of Jews to emphasize the danger of allowing prejudice to spread through the words of public figures.
"The Jewish community knows all too well what can happen when particular religious or ethnic groups become the focus of invective. We have witnessed the dangerous acts that can follow verbal expressions of hate," it said.
The 501(c)(3) nonprofit organizations among the signatories are not permitted to be directly involved with political activism nor show partisanship, although they may engage in advocacy on behalf of their principles.
"This letter is not about left or right, it's about Jewish and American values," Abby Levine, director of the Jewish Social Justice Roundtable, told JTA. "If any Jewish person in this country doesn't understand, doesn't at least acknowledge this concern and shock at what's happening in our country, they are just not being honest about our community and our society."