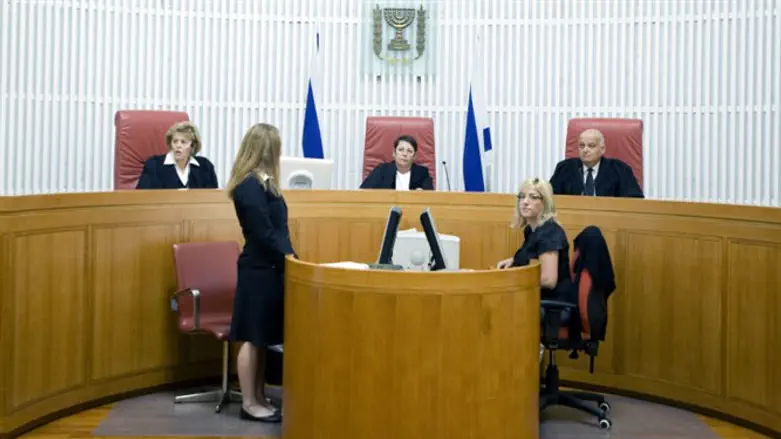 Israel Supreme Court justices
Photo: Flash 90
The Israeli Supreme Court has shot down an appeal by a coalition of terror victims' families and right-wing activists to veto the government's recent reconciliation agreement with Turkey.
The appeal was submitted by, among others, attorneys representing a number of families whose relatives were murdered by terrorists, as well as the Otzma Yehudit nationalist group.
In their appeal to the Supreme Court, the complainants claimed the deal dealt a "critical blow" to the rule of law and to Israeli democracy, by awarding millions in "compensation" to the families of Turkish jihadists who were killed during an armed assault on IDF soldiers aboard the Mavi Marmara flotilla, which attempted to break Israel's blockade of Gaza in 2010.
"It cannot be that someone who tries to harm and kill should find himself (or his relatives) receiving 'compensation' in respect to those criminal acts," the appeal read.
They also warned that by showing "submission and servility," the government's decision to approve the deal would in fact encourage further terrorist attacks against Israelis.
But Supreme Court Judges Salim Joubran, Nil Hendel and Uri Shoham disagreed.
"The State, for diplomatic and security considerations, chose to accept Turkey's demand to pay a certain amount in return for a final conclusion to the Marmara incident, without constituting a recognition of responsibility," Joubran wrote in his ruling.
"I do not think it could be said that this decision is illegal or unreasonable, even if these payments are at the end of the day passed to the families of those killed as they attempted to harm IDF soldiers," he continued, adding that based on these and other considerations, the Court would not involve itself in policy matters.
In a statement, the Otzma Yehudit group derided the Supreme Court's decision, noting that "when the Supreme Court Justices want to, they intervene in both decisions of the government as well as the Knesset."
"Only recently, regarding the natural gas agreement, the Supreme Court intervened in the deal, despite the government's position," it added. "To our sorrow, it was expected that the appeal would be rejected, and our difficult feeling is that the Supreme Court approves (only) government decisions which give a boost to terrorism."