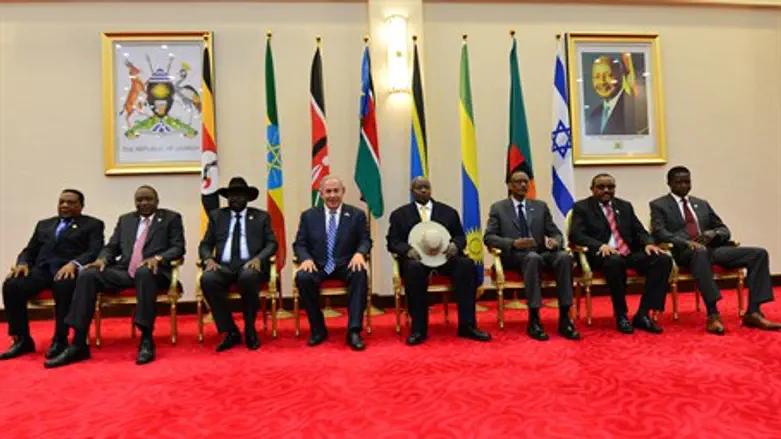 Netanyahu joins African leaders at Uganda summit
Kobi Gideon/GPO
Prime Minister Benjamin Netanyahu arrived in Rwanda on Wednesday, beginning what promises to be a symbolically significant leg of the PM's Africa tour, boosting ties between two countries with a history marked by genocide.
Netanyahu was welcomed at the airport by Rwandan President Paul Kagame, and later visited the Kigali Memorial Centre, where more than 250,000 out of over 800,000 victims of the 1994 genocide are buried in mass graves."The Rwandan government felt a real affinity with Israel for obvious historic reasons," said Phil Clark, a Rwanda specialist at London's SOAS university. "Israel was seen as a small country in a very hostile neighborhood; a country with very few resources but which had recovered from its genocide very quickly and very impressively," Clark said. "So Israel was an obvious place for Rwanda to look to for inspiration."
From a pragmatic point of view, Israel is seen by Rwanda as an alternative partner amid increasingly strained relations with traditional allies such as the United States or Britain.
In 2014, when Rwanda sat on the UN Security Council, Kigali abstained from a resolution - ultimately rejected - advocating a full Israeli withdrawal from Judea and Samaria.
The visit to Rwanda is part of a four-nation tour undertaken by the Prime Minister aimed at boosting security, intelligence, and economic ties between Israel and important African naitions.
Israel's business dealings with Africa constitute only two percent of its foreign trade, leaving plenty of room for growth while demand for its defense expertise and products is rising.
Israel also sees African countries as potential allies, particularly at the United Nations and other international bodies, where the Jewish state is regularly singled out for condemnation.

On Monday, Netanyahu visited Uganda to commemorate the 40th anniversary of the Israeli raid on Entebbe airport in which his brother Yonatan was killed rescuing hostages held by German and Palestinian hijackers. On Tuesday he visited Kenya, and will end his tour on Thursday in Ethiopia.
AFP contributed to this report