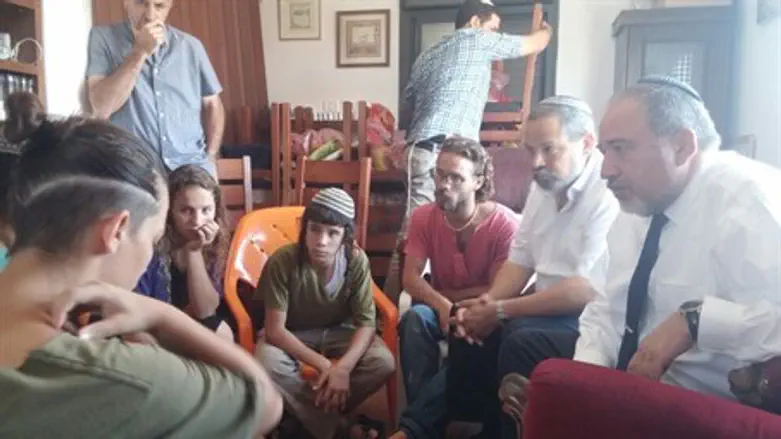 Liberman with Mark family
Har Hevron Spokesman's office
Defense Minister Avigdor Liberman paid a condolence visit to the family of Rabbi Michael Mark, who was murdered in a drive-by shooting last Friday. 
Speaking to Rabbi Mark's family in their house in Otniel, Liberman declared that he doesn't intend to remain passive in the face of the recent wave of terror: "We must build and provide for Defense," the Minister said, "We aren't just conducting defensive operations, we need to remove the head of the snake."
Head of Har Hevron Regional Council Yohai Damari called on the Defense Minister to broaden the scale of construction and settlement of Jews in Judea and Samaria, and told him about the ceaseless incitement in the local mosques. "Every Friday we hear chants of 'Kill the Jews' coming from the mosques. You must stop the inciters," Damari said. 
The Mark family expressed support for IDF troops and called for continuing action to halt the nationwide terror wave. The orphans asked Liberman to promote the establishment of a Jewish town in the spot where their father was murdered. 
"The answer isn't just more security and a few more houses," argued Miriam, one of the daughters, "The answer is establishing whole new towns, so as to make clear to the terrorist that his is our home, and we'll never budge from here."