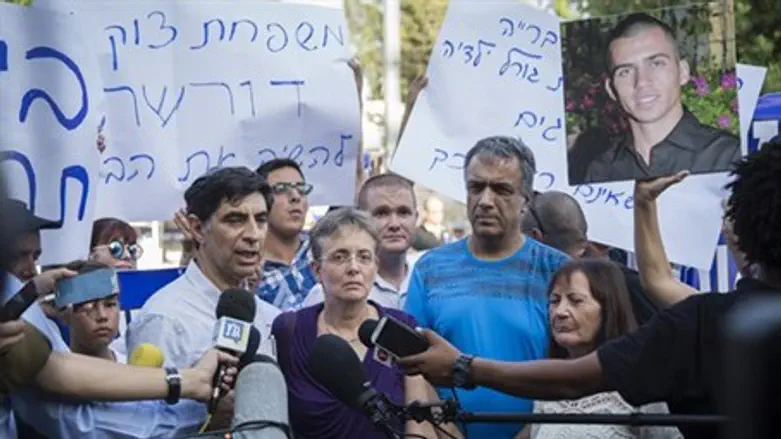 Families of Hadar Goldin and Oron Shaul
Flash90
Relatives of Hadar Goldin, one of two fallen IDF soldiers whose bodies are being held in the Gaza Strip, responded on Monday to reports that the Hamas terror organization is demanding Israel free dozens of terrorists as a precondition to negotiations, blaming the Israeli government for squandering a "golden opportunity" to use the reconciliation talks with Turkey to pressure Hamas.
"Israel had a golden opportunity last week to change the equation, and to use the deal with Turkey to pressure Hamas to pay the price and return the bodies of Hadar and Oron," the Goldin family said in a statement.
"Unfortunately, instead of pressuring our enemies, [the government] revealed its impotence, letting Hamas earn a reward for holding the bodies in captivity. While our soldiers are held in Gaza, Hamas prisoners [in Israel] enjoy the standards of a hotel, sitting around watching the Euro [soccer tournament]."
"When the Prime Minister signs an agreement that eases the conditions on Gaza without making Hamas pay a price for its criminal actions, that in essence signals to Hamas [our] weakness and lays the groundwork for additional demands, including the freeing of murderers and terrorists."
While the Turkish reconciliation deal signed and ratified by the Israeli cabinet, the Goldin family nevertheless called upon Israeli leaders to "change the equation and make Hamas understand that holding soldiers captive doesn't pay."
"This is the time to make our enemies pay a price, rather than for us pay them, and to return Hadar and Oron, our sons, back home".
Earlier Monday morning a senior Israeli official reported that Hamas had demanded that at least 50 security prisoners be freed as a precondition to talks over the return of Israelis held captive in Gaza - including a mentally ill man - and the bodies of Hadar Goldin and Oron Shaul.