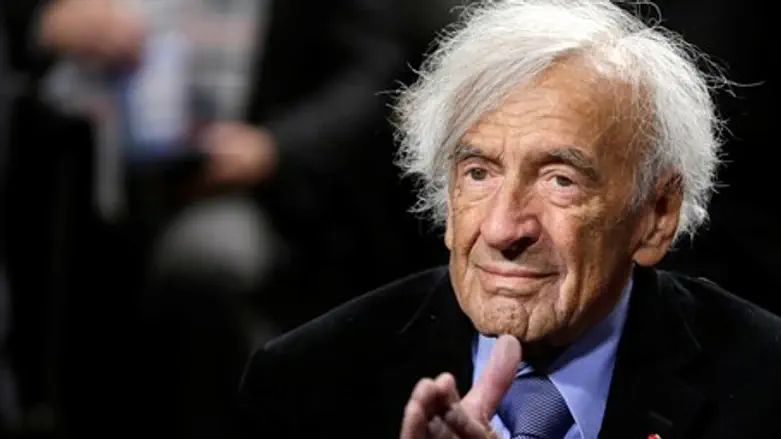 Elie Wiesel
Reuters
(AFP) Among the many tributes paid to Holocaust survivor Elie Wiesel, who passed away Saturday aged 87, those in Romania are particularly heartfelt.
Thanks to Wiesel's intervention, say Jewish groups, millions of Romanians discovered their country's role in the Holocaust - and learning of this grim episode has helped sow seeds of tolerance.
"We deeply regret the death of Elie Wiesel," the president of the Federation of the Jewish Communities of Romania, Aurel Vainer, told AFP.
"He was a man who bequeathed to us the duty to preserve the memory of the Holocaust and to ensure that this tragedy never occurs again."
Romanian President Klaus Iohannis issued a statement Sunday expressing great sadness at Wiesel's death.
"We have all lost one of the strongest voices who spoke out against the oblivion of memory and historical revisionism," said Iohannis.
"The lesson in life that he gave to the world will always be a source of inspiration."
Wiesel shot to global fame in 1960 with his work "Night," a memoir of his terrible experience as a Jewish boy in the Nazi death camps.
In 2003, he intervened when worldwide condemnation fell on Romania after its then president, Ion Iliescu, played down the extent of the Holocaust.
The country set up an international panel of experts, headed by Wiesel, to investigate Romania's role in the mass murder of the Jews.
A year later, the report, approved by the Romanian government, found that between 280,000 and 380,000 Romanian and Ukrainian Jews were killed between 1940 and 1944 on Romanian soil, ruled by Ion Antonescu, a fascist anti-Semite. Thousands of Roma also perished.
"Elie Wiesel threw himself into the work of this commission and toiled to forge consensus on many areas," Vainer said.
Wiesel himself said that, even though he had "read everything about the Holocaust," he had had little idea of the extent of the massacres in Transdniestr - a strip of land lying on what is now the border between Moldova and Ukraine where there were Romanian-run death camps.
Wiesel's legacy has been to spark a far-reaching review of the country's World War II self-image.  
It has helped to roll back the assumption - as taught to Romanian children before the 1989 revolution - that Germans alone were perpetrators of the Holocaust.
After 1989, some Romanian nationalists declared Antonescu - executed after World War II - to have been a hero who had defended Romania after the Soviet Union had invaded parts of the country in 1940.
In 2004, the country declared a national day of commemoration for the Holocaust, held every day on October 9 - the day in 1941 when the Antonescu regime began the deportations of Jews to Transdniestr.
Born in Romania
Wiesel was born to a poor family in 1928 in Sighet, a town in northern Romania that in 1940 was handed over to Hungary. His house today is a Holocaust memorial.
He was deported at the age of 15 to Auschwitz, where his mother and younger sister were murdered. His father was to die in Buchenwald where he and Elie were force-marched.  
An American citizen, he died at his home in Manhattan on Saturday.
Wiesel's death "is a great loss, not only for the Jewish community but for all of humanity," fellow Auschwitz survivor Liviu Beris, who had worked on the Wiesel Commission, told AFP.
Wiesel fought "against all injustice," Beris said.
He last returned to Romania in 2002, when he received a medal for "promoting peace."
He angrily returned the medal two years later when Iliescu gave awards to two "known anti-Semites and revisionists" - the historian Gheorghe Buzatu and Corneliu Vadim Tudor, a poet and leader of the far right.