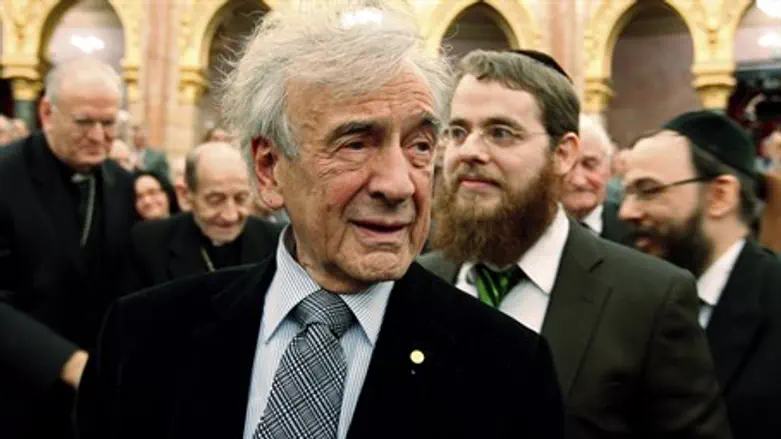 Elie Wiesel at 2009 symposium of Jewish-Hungarian solidarity in Hungarian parliament
Reuters
Elie Wiesel, the world's most famous Holocaust survivor, was a Nobel peace laureate, outspoken activist and symbol of human rights.
He was also a prolific writer who published dozens of works, including novels, books of essays, plays and cantatas through his career, which spanned more than half a century.
The following is a sampling of some of his best-known volumes published in English.
"Night" (1960) -- Wiesel's internationally acclaimed memoir detailing the terror he survived as a 15-year-old boy living in concentration camps. Originally written in Yiddish and later published in French in 1958, the book was Wiesel's first step into the public eye and is now a cornerstone of Holocaust literature.  
"Dawn" (1961) -- The sequel to "Night" about a young World War II survivor who settles in Palestine and joins a Jewish underground movement.
"Day" (1962) -- Originally published under the title "The Accident," Wiesel used this novel to reflect on the horrors he outlived and the deaths of his family and friends. "Night," "Dawn," and "Day," were republished as a trilogy in 1985.
"A Beggar in Jerusalem" (1970) -- A novel set in the days following the 1967 Six-Day War, in which a Holocaust survivor visits a newly reunified Jerusalem that has become fully incorporated into Israeli territory.
"Souls on Fire: Portraits and Legends of Hasidic Masters" (1972) -- A collection of legends, parables and personal reflections about Hasidism, a branch of Orthodox Judaism.
"The Oath" (1973) -- Wiesel's novel centered on the sole Jew in a small Hungarian town to survive a pogrom by neighboring Christians.
"The Trial of God" (1979) -- Wiesel's play set in a 1649 Ukrainian village, detailing the aftermath of a pogrom.
"The Golem" (1983) -- A compilation of legends associated with the mythical clay creature known as the Golem, retold by a gravedigger who claims to have witnessed miracles performed by the legendary being.
"The Forgotten" (1992) -- In this novel Wiesel follows a psychotherapist and Holocaust survivor suffering from an incurable illness that's destroying his memory. He confides his memories in his son before losing them completely.
"All Rivers Run to the Sea: Memoirs" (1995) -- The first in Wiesel's two-volume autobiography that includes childhood memories from his native Romania, his chilling experience in Nazi concentration camps and his eventual prominence as a Holocaust witness and human rights activist.  
AFP contributed this report.