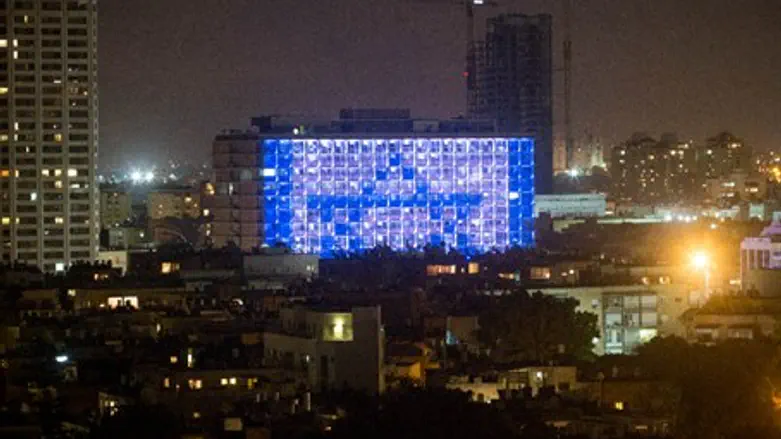 The Israeli flag displayed on the Tel Aviv municipality
Miriam Alster/Flash90
Thursday night marks the arrival of the Tel Aviv White Night (Laila Lavan) – the biggest cultural event in Israel's party capital.
This year's roster of free and low-cost beach concerts and parties, musical, theater and dance performances, special exhibitions and street fairs takes place all through the night from June 30 to July 1 throughout the streets, squares, courtyards and auditoriums of the city.
Additionally, many restaurants, bars and stores remain open all night.
Here is a selection of what to expect:
Free Events
Street Art Europa – The European Union (sans Britain) is presenting five hours of arts and crafts workshops. Some of the exhibits will be interactive, and there will be a dance party at the end of the night.
Where: 1 Rothschild Boulevard.
When: 8 p.m. –1 a.m.
Concerts at Jaffa - Head over to Jaffa Port and catch a variety of tunes.
Where: Jaffa Port
When: 8:00 p.m.
Radio TLV Silent Disco – Headphone Party.
Where: Rabin Square
When 8:00 p.m. – 2:00 a.m.
Jazz Orchestra
Where: Sarona complex, Tel Aviv-Yafo
When: 8:30 p.m. – 11:00 p.m.
Swing Dance Party – Dance classes and swing performances by Holy Land Swing Dance School.
Where: Dizengoff Square
When: 9:00 p.m. – 12:30 a.m.
360 A White Night Panorama – Premiere of a panoramic film screened on the front wall of the Cinematheque, followed by all-night screenings, including a Star Wars marathon that starts at midnight.
Where: Cinematheque
When: 9 p.m.
Paid Events
White/Purple Night – Tribute to Price with concerts and movies.
Where: Ozen Bar, 48 King George Street
When: 10:00 p.m.
Cost: 35 NIS
White Night Pub Crawl – Free booze and fast-tracked club entrance.
Where: Rothschild Boulevard
When: 9:30 p.m.
Cost: 80 NIS
Pajama Party – An entire night of family-friendly programming, including activities, music and more. Dress code is pajama chic.
Where: Eretz Israel Museum, 2 Chaim Levanon Street
When: 6:00 p.m.
Cost: 30 NIS
White Night Rooftop Techno Party
Where: 25 King George Street
When: 10:00 p.m. – 4:00 a.m.
Cost: 20 NIS
Road Closures
Many streets will be blocked for traffic in light of the events. Israeli police call for visitors to use public transport and park in lots throughout the city.
Beginning at 9 p.m. the following roads will be closed:
Allenby Street – from Ha-Moshavot Square to Herbert Samuel St. in both directions
Rotschild Boulevard – from Herzl St. to Marmorek St. in both directions
Herbert Samuel Boardwalk
Kauffman and Hayarkon Streets – from Yerushalayim Ave. to Shalag St. in borth directions
Yerushalyim Avenue – from Derech Ben Tzvi to Eilat street, heading northbound
Tel Aviv Port Area – Rokach Boulevard and Hayarkon St. will be blocked between Ibn Gabirol St. and Sderot Nordau.
Rabin Square complex - Ibn Gabirol Street will be blocked to traffic from Arlozoroff St. to Sderot Shaul Hamelech in both directions.
Depending on traffic jams in the city, police may choose to block main arteries heading west into the city in the following stages:
Stage 1: Roads heading westbound off of Ibn Gabirol Street will be blocked to traffic including Nordau Boulevard, Basel, Arlozorov, Frishman, Dizengoff and Marmorek streets
Stage 2: Roads heading westbound off of Derech Namir and Menachem Begin will be blocked including Rokach Bld, Pinkas, Jabotinsky, Arlozorov, Shaul Hamelech, Kaplan, Carlebach and Harakevet
Stage 3:  Ayalon Highway (Route 20) all interchanges leading into the city will be blocked including Rokach, Hashalom, and La Guardia interchanges.
For more information, visit the Tel Aviv Municipality website by clicking here, or the Tel Aviv travel guide website here.