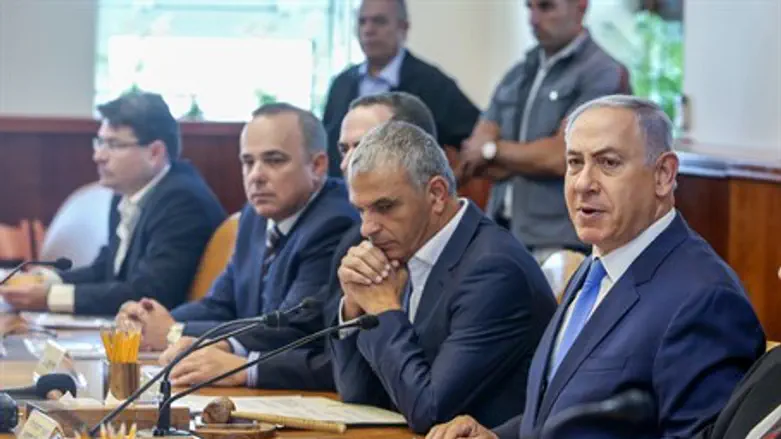 Binyamin Netanyahu at weekly Cabinet meeting (file)
Marc Israel Sellem/Flash90
The Cabinet has voted to approve Israel's reconciliation agreement with Turkey, formalizing the controversial agreement in spite of some staunch opposition.
As expected, three Cabinet members voted against the deal, which has been hailed as a strategic victory by Prime Minister Binyamin Netanyahu: Education Minister Naftali Bennett and Justice Minister Ayelet Shaked of the Jewish Home party, and Defense Minister Avigdor Liberman of Yisrael Beytenu.
Under the terms of the deal, Israel will pay $20 million in compensation to the families of Turkish jihadists killed during an attack on IDF soldiers who boarded the Mavi Marmara in 2010, having already acceded to Turkey's demand for a formal apology over the incident. In addition, Israel will facilitate the transfer of Turkish aid shipments into Gaza.
In return, Turkey will agree to normalize relations with the Jewish state, after Ankara's Islamist government broke all ties six years ago in the aftermath of the Marmara incident. Negotiations will then begin over a potentially lucrative deal to import Israeli natural gas to Turkey.
Jerusalem and Ankara are set to exchange ambassadors in the coming weeks, for the first time since relations between the two nations collapsed.
Opponents of the deal argue that in paying compensation over the Mavi Marmara incident, the government has dealt a blow to Israeli deterrence and a victory to terrorism. Moreover, many critics have slammed Netanyahu for not including the release of Israelis held by Hamas in Gaza as a condition, given the close ties between Ankara and Hamas. The families of soldiers Oron Shaul and Hadar Goldin - whose bodies are being held by Hamas - and civilian Avera Mengistu, who is still believed to be alive in Hamas captivity, have accused the government of abandoning their children.
However, in defending the deal on Monday, Netanyahu said that Turkish President Recep Tayyip Erdogan had written a letter committing to work towards the release of all Israelis held by Hamas. He further claimed that, contrary to critics' assertions, Turkey cannot force Hamas to release them, but added that with Erdogan's support their release is more likely.
He further touted the natural gas deal with Turkey as a major strategic achievement, while saying that enabling Turkey to repair Gaza's crumbling infrastructure would be in Israel's interests as well.
Internal Security Minister Gilad Erdan (Likud) similarly defended the reconciliation deal after voting for it Wednesday.
Erdan repeated Netanyahu's assertion that Turkey cannot force Hamas to hand over Shaul and Goldin's bodies, or to free Mengistu and another, unnamed Israeli Bedouin held by the terrorist group.
However, he acknowledged critics' assertion that Erdogan's letter did not constitute "significant progress", adding that therefore "in light of my request, the Cabinet will (meet to) consider the subject of the conditions of Hamas prisoners" in the coming weeks, and decide what pressure, if any, Israel can enact to secure their release.
According to Erdan, the reconciliation deal provides a number of security and economic benefits to the State of Israel.
In particular, Turkey's decision to drop its demand that Israel end its blockade of Gaza - aimed at preventing the transfer of sophisticated weapons to terrorists there - and Ankara's agreement to only transfer aid via the permitted routes in Israel, constituted a major strategic victory.
If terrorists in Gaza resumed their attacks, he added, the aid would cease.