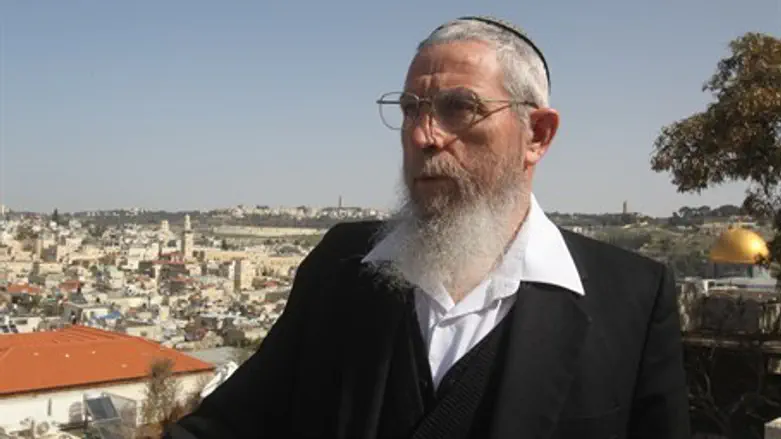 הרב ישראל אריאל
פלאש 90
In the wake of the Arab riots on the Temple Mount over the past few days, Temple Institute head Rabbi Yisrael Ariel called on the government to close the Temple Mount to Arabs.
Yesterday a worshipper at the Kotel was injured by rocks thrown by Arabs from the Temple Mount. Rabbi Ariel told Arutz Sheva, "It makes no sense that [the Arabs] riot, but [the government] closes the Temple Mount to Jews. It is the rioters who should be punished and not their victims."
According the Rabbi Ariel, the only way to restore calm to the Temple Mount is to ban the rioting Muslims. "The rock which was thrown today at the Kotel [injuring a worshipper] is a reminder that we have abandoned the Temple Mount. They have turned the Temple Mount into the Hamas front line from which they can throw rocks and fireworks.
"This holy site has become a place from where they spit on us and degrade us. Certainly, this is also related to the reconciliation deal with Turkey which is a disgrace and an embarrassment. How can we give compensation to terrorists who came to kill us? This is capitulation and stupidity. Just as in the case of Sgt. Elor Azaryah, we are continually degrading ourselves."
Rabbi Ariel stated that the time has come to restore order to the Temple Mount. "As long as Arabs remain there it will continue to be the most violent place. We must close the gates of the Mount. They have been there long enough. Now let them go to pray in Mecca."