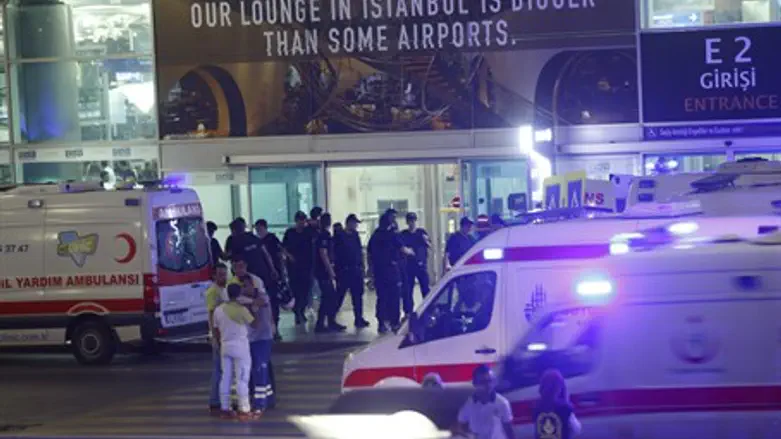 SIte of attack on Ataturk Airport in Istanbul
Reuters
David, an Israeli who was at the Ataturk Airpost in Istanbul during of Tuesday's suicide bomb attacks, recalled what he saw in a conversation with Channel 10 News.
He said that the group to which he belonged heard gunshots, when suddenly there was a big explosion.
"The whole incident happened just as we landed. We heard a 'boom-boom-boom' sound and then a blast. Everyone fled the scene en masse, people were stepping on one another, everything happened outside the airport," he told Channel 10, adding that police transferred all the passengers to the other end of the terminal and would not let anyone pass through.
"Someone yelled and then everyone started running, I estimate that there were several thousand people in the terminal. All the security people told us to run to the other side of the terminal, which was far from the site of the attack. We saw people running with guns drawn and then realized they were the security guards," recalled David.
At least 50 people were killed in the terrorist attack on the Ataturk Airport. Turkish officials said the attack took place as two suicide bombers detonated their explosives.
Turkey is a popular site for Israelis, but the Foreign Ministry in Israel said it appears no Israelis were wounded in the attack. 
Israeli passengers who were stranded at the airport following the attack were taken to nearby hotels, until Turkish Airlines flights to Tel Aviv are renewed on Wednesday.