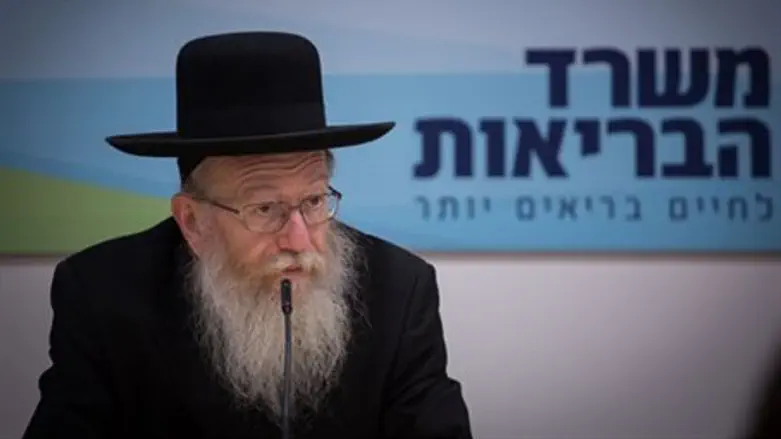 Health Minister Yaakov Litzman
Photo: Hadas Parush/Flash90
Health Minister Yaakov Litzman (United Torah Judaism) spoke out Tuesday morning regarding the recent crises involving the Reform movement, especially those regarding the Western Wall and mikvaot (pools for religious purity).
In his opinion, Prime Minister Netanyahu has to choose between the desires of Reform Jews outside Israel, or those of haredim in Israel.
"I'm saying this without hesitation: against the Reform movement's actions we will wage a bitter war. They are a poor imitation of Judaism, and we will not allow them any foothold in the state. Outside of Israel they have destroyed Judaism. They don't even have mikvaot - it's simply nonsense!" Litzman charged in an interview with Kol Chai.
According to him, the real issue lies in defining the Western Wall and its status - though the minister was mum on the details. "I recommend that we don't expound on this at the moment over the radio, we'll meet this week with Netanyahu and decide what to do."
The Health Minister also warned that enacting the recent agreements with the Reform movement will break the trust on which they built the coalition.
"We signed on after Netanyahu agreed to maintain the status quo [religiously]. We will not tolerate a situation where we sign into the coalition, and he back-stabs us. He is the final word regarding the Reform, the Western Wall, and Shabbat, and with this knowledge we joined the coalition. If they [Likud] want to divorce from us - we will leave."
In passing, Litzman touched on the topic of the ground-breaking cannabis revolution he enacted in the government this week. The new reforms greatly relax restrictions against growing, producing, stocking, transporting, and prescribing medical marijuana.
However, "I'm definitely not interested in increasing the use of cannabis, it's a drug like all other drugs." He adds that if, as a result of his reforms, the abuse of marijuana becomes more wide-spread, then he'll regret his decision.
Overall, though, Litzman was dismissive of the whole matter, noting that he didn't bring the matter up with the UTJ's rabbinic council, including his own rabbi, the Gerrer Rebbe, Rabbi Yaakov Aryeh Alter, before pushing it through.
"Every little office matter I should ask him? I only go to him with important matters." said Litzman.