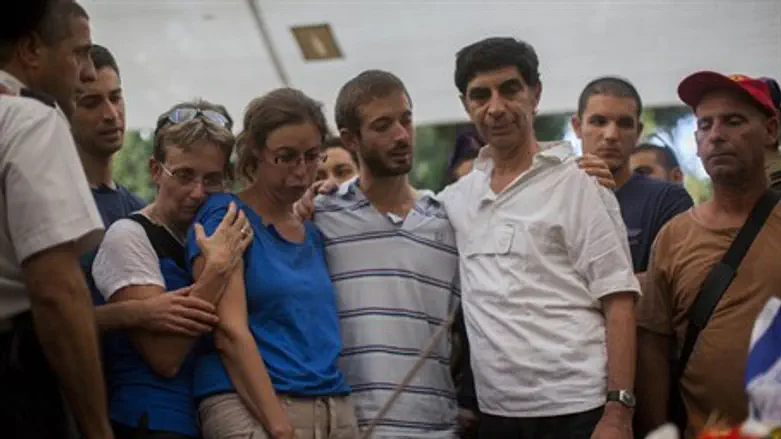 Hadar Goldin's family at memorial
Yonatan Sindel/Flash 90
As Israeli and Turkish leaders revealed the details of a much-anticipated reconciliation agreement in Rome on Monday, families of two soldiers believed to have been killed during Operation Protective Edge lambasted Prime Minister Binyamin Netanyahu for "abandoning" the servicemen.
Oron Shaul and Hadar Goldin were attacked by Hamas terrorists during the 2014 operation, and were presumed to have been killed, though Israel never recovered their bodies, both of which Hamas captured.
Turkey, which maintains ties with the Hamas terror organization, severed ties with Israel following the Mavi Marmara incident, in which a Turkish ship attempting to run the Israeli blockade of Gaza was detained by Israel.
Pro-Hamas Turks onboard attacked Israeli soldiers attempting to secure the vessel. When IDF forces opened fire in response, 10 Turkish assailants were killed.
The newly inked rapprochement deal between Israel and Turkey, which includes a $20 million compensation package to the families of the Turkish terrorists killed on the Mavi Marmara, does not include any clear provision requiring Turkey to secure the return of the bodies of Goldin and Shaul.
Turkey has pledged, however, to use its influence to pursue the return of the fallen IDF soldiers from Hamas.
Relatives of Goldin slammed the agreement, saying the Israeli government had abandoned the lost soldiers.
"We view the agreement which has been coming together between Israel and Turkey very seriously; [an agreement] that abandons Lieutenant Hadar Goldin and First Sergeant Oron Shaul, and does not include the return of their bodies from Hamas captivity."
"The Prime Minister's declarations are worthless. He works against his own promises towards us… and has brought upon the people of Israel a terrible, problematic agreement, totally ignoring the pain of the families and the fate of Israel's heroes. We don't need the empathy of public representatives; [what we need] are their votes against this terrible agreement and the linkage of any agreement to the return of the bodies".
The family of Oron Shaul expressed pessimism, saying the deal appeared to completely abandon the issue.
"The feeling is not good," said Herzl Shaul, Oron's father. "We get updates and read in the news about the situation [of the deal] and hear that it's a done deal – without any reference to Hadar and Oron in the agreement."