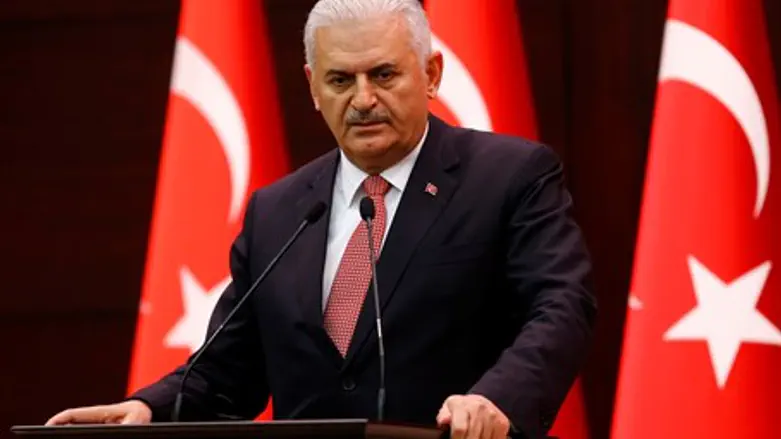 Turkish Prime Minister Binali Yildirim
Reuters
Turkish Prime Minister Binali Yildirim hailed his country's reconciliation deal with the State of Israel, framing it as a victory for Turkey.
Speaking at a conference in Turkey's capital Ankara shortly after Israeli Prime Minister Binyamin Netanyahu's own announcement, Yildirim also claimed the agreement had granted Turkey all of its demands.
Israel and Turkey would be exchanging ambassadors "as soon as possible," he said, as part of a re-normalization of ties between the two states. Ankara would appoint it ambassador within weeks, he added.
Under the deal, Israeli would be paying $20 million to the families of 10 Turkish jihadists killed aboard the Mavi Marmara ship, which in 2010 attempted to violently break Israel's blockade of Gaza.
The agreement also agrees to allow Turkey to deliver aid to Gaza, though crucially Turkey dropped its long-held demand for Israel to end its blockade of the Hamas-ruled enclave entirely. Humanitarian channels have always been open, but the Turkish PM cast that particular concession by Israel in particularly glowing terms, and said aid shipments would begin immediately.
"To this end, our first ship loaded with over 10,000 tonnes of humanitarian aid will leave for Israel's Ashdod port on Friday," he said.
Yildirim declared Turkey's intention to build a new 200-bed hospital in Gaza, among other construction projects.
Asked about a reported Turkish commitment to help prevent Hamas attacks against Israel, Yildirim said: "This is not a ceasefire deal. We reached an agreement with Israel to normalize relations."
AFP contributed to this report.