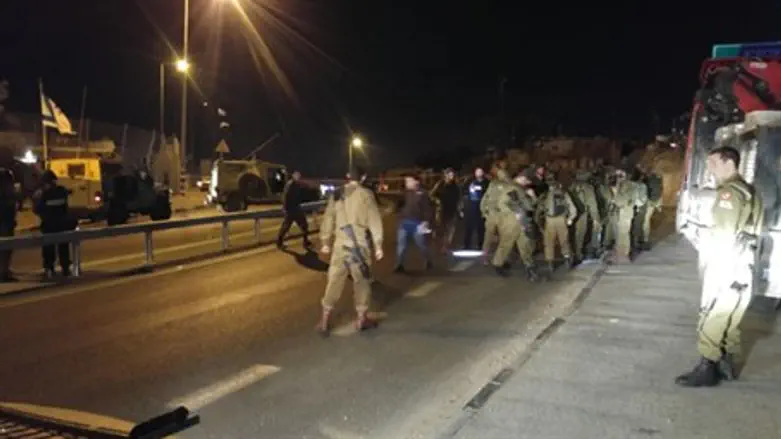 Hizma bombing
Binyamin Regional Council spokesperson
The Shabak internal security agency arrested a man suspected in a May 10th bombing attack north of Jerusalem that left one IDF officer badly injured.
The attack, which took place on the eve of Israel's Memorial Day (Yom HaZikaron), targeted Israeli soldiers near the village of Hizma, just north of the Pisgat Ze'ev neighborhood in Jerusalem.
During interrogation, the man admitted that he had prepared additional explosive devices and was planning to strike Israeli targets in the Maaleh Adumim area.
The terrorist has been identified as Dr. Samer Mahmoud Daoud Halabiyeh, a 35-year old dentist from the town of Abu Dis, just east of Jerusalem.
Halabiyeh reportedly placed the explosive device, then activated it with his cell phone when he saw Israeli soldiers approaching it.
A number of other medical practitioners with ties to the terrorist were also taken into custody by security forces.
Among them are Dr. Dagana Fayz Gemal Navhan, a 35-year old dentist from the Kalandia refugee camp; the bomber's father, Mahmoud Daoud Shahada Halabiyeh, who works as a hospital nurse; the bomber's brother, who also works as a dentist in Abu Dis, and Halabiyeh's cousin, a 31-year resident of Abu Dis.
According to investigators, Halabiyeh began planning the attack in February 2016, claiming he was motivated by "the desecration of Al Aqsa and Israeli attacks on Palestinian children."
Halabiyeh revealed during questioning that he stored the explosive devices in his dental clinic.