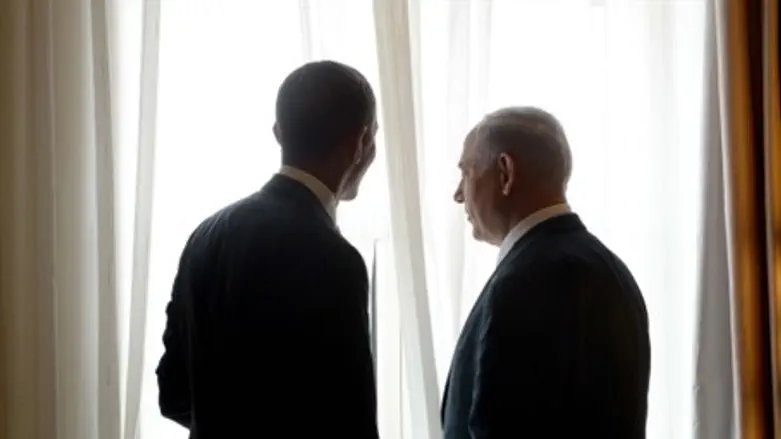 Barack Obama, Binyamin Netanyahu
Avi Ohayon/GPO/Flash 90
An Israeli official on Monday evening expressed optimism about the chances of Israel and the United States reaching an agreement on the American military aid package to Israel.
"The gaps between the United States and Israel regarding the aid package are not significant," the official said, noting that in order to formulate a multi-year plan for the IDF, "it would be better to sign the agreement as soon as possible."
The official, who spoke following Defense Minister Avigdor Liberman's meeting at the Pentagon with his American counterpart Ashton Carter, added that the meeting was a very positive one and that Liberman was even flown from New York to Washington in the Pentagon's special plane.
The current defense agreement between Israel and the United States remains in force until 2018, and Prime Minister Binyamin Netanyahu has been urged to accept President Barack Obama's 10-year military aid package which reportedly includes a total of $145.8 million for Israeli missile defense programs, a sharp drop in financial support.
A total of $3 billion in defense aid is given annually, but Netanyahu has asked for an increase to $5 billion annually, in light of the greater need for security due to the growing Iranian threat after the nuclear deal. 
Last week, the House of Representatives passed a $576 billion defense spending bill which includes $635.7 million for U.S.-Israel missile defense programs, despite a threat by the Obama administration to veto the bill.
The White House explained the veto threat by saying that it objected Congress' proposal because the administration believes any additional aid to Israel should be part of the 10-year military aid agreement the two countries are now negotiating.