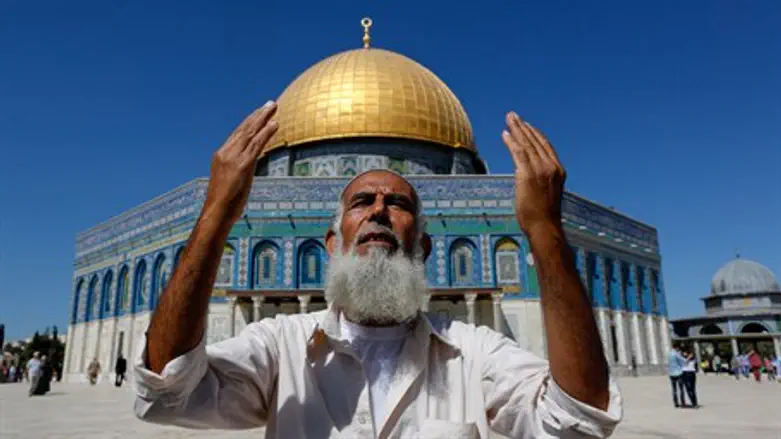 Salafist man in Temple Mount
Sliman Khader/Flash 90
Israel allowed hundreds of Palestinians from the Gaza Strip into Jerusalem for Ramadan prayers Friday, an official said, a week after revoking entry permits in response to a deadly attack.
The 300 Palestinians are believed to be the first from the Strip to be granted entry to pray since Israel shut the border after terrorists killed four Israelis in Tel Aviv on June 8.
That measure came during the first week of the Muslim holy month of Ramadan, when tens of thousands of Palestinians visit the Temple Mount.
The permits issued for Friday were the regular weekly quota for worshipers at the site, said a spokeswoman for COGAT, the Defense Ministry unit which manages civilian affairs for Palestinians in their self-administered areas.
"Larger numbers were supposed to enter for Ramadan. That has been canceled," she said.
Israel imposed a blockade on Gaza in 2007 -- two years after it forced all Jews to leave Gaza -- designed to prevent Hamas from rearming.
Around 53,000 Palestinians from Judea and Samaria were also allowed into Jerusalem on Friday to pray, the spokeswoman said.
Thousands of Palestinians from Judea and Samaria had already been allowed to go there last week in an exception to the entry ban, she noted.
The Tel Aviv attack was the deadliest in a wave of violence that began in October.
One of the two attackers was arrested, while the other was shot and treated in an Israeli hospital.
Further details have been placed under a gag order by the Israeli authorities while the investigation continues.
AFP contributed to this report