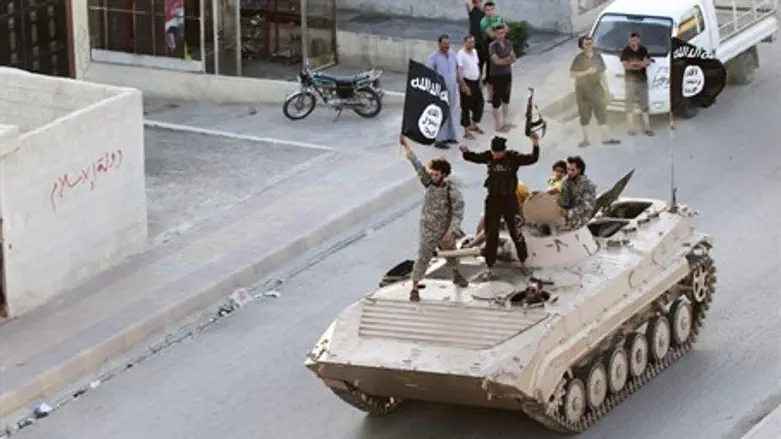 ISIS terrorists in Syria
Reuters
Arab-Kurdish fighters backed by the United States on Friday cut the Islamic State (ISIS) group's main supply route between Syria and Turkey in a major setback for the jihadists.
ISIS has come under growing pressure on various fronts in Syria and Iraq, where it established its self-declared "caliphate" in 2014.
The extremists lost control Friday of a vital supply artery when Arab-Kurdish forces completely surrounded a key jihadist-held town.
"The Syrian Democratic Forces (SDF) cut off the last road from Manbij to the Turkish border," said the Syrian Observatory for Human Rights, a Britain-based monitoring group.
Manbij lies at the heart of the last stretch of territory along Turkey's border still under ISIS control, and was a key point on the jihadists' supply line from Turkey.
Other secondary roads to the frontier are more dangerous and difficult to access, Observatory head Rami Abdel Rahman said.
The U.S. envoy to the anti-ISIS coalition backing the SDF, Brett McGurk, confirmed the road had been severed.
"ISIL terrorists now completely surrounded with no way out," he wrote on Twitter, using another acronym for ISIS.
This week the SDF, backed by coalition air strikes, cut the road north out of Manbij to the ISIS-held border town of Jarabulus, which the jihadists had used as a transit point for fighters, money and weapons.
Reports Thursday said more than 130 ISIS terrorists had been killed in the offensive on of Manbij.  
The SDF also blocked the road south out of Manbij heading to ISIS's de facto capital of Raqa.
"For the jihadists to reach the Turkish border from Raqa, they now have to take a route that is more dangerous because of regime troops nearby and Russian air strikes," Abdel Rahman said.
Russia launched air strikes in support of President Bashar Al-Assad's regime in Syria in September.
Thousands of residents have fled Manbij – held by ISIS since 2014 – but jihadists who evacuated their families stayed to defend the town, the Observatory said.
About 20,000 people are still living in the town, which had a pre-war population of about 120,000 -- mostly Arabs, but about a quarter Syrian Kurds.
Syria's war has killed more than 280,000 people and displaced millions since it started in 2011 with the brutal repression of anti-government protests.
The United Nations says a total of 592,000 people live under siege in Syria -- most surrounded by government forces -- and another four million in hard-to-reach areas.
AFP contributed to this report.
(Arutz Sheva's North American desk is keeping you updated until the start of Shabbat in New York. The time posted automatically on all Arutz Sheva articles, however, is Israeli time.)