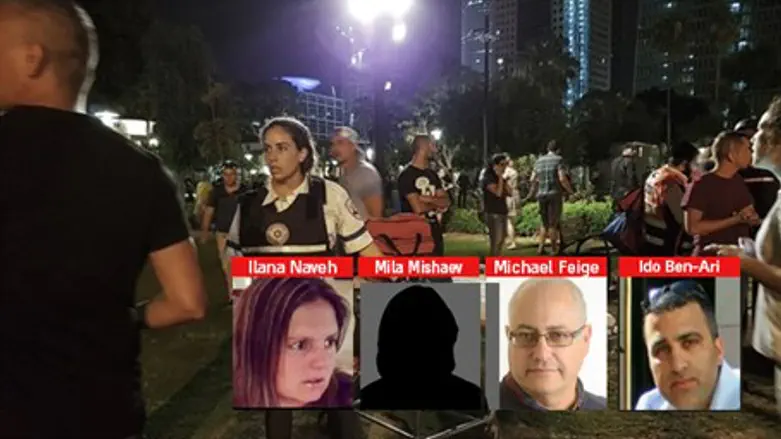 Sarona Market attack victims
Flash90/Arutz Sheva
The four victims of Wednesday night's shooting attack in central Tel Aviv have been named as 41-year-old Ido Ben-Ari of Ramat Gan; Ilana Naveh, 39, of Tel Aviv; Ben Gurion University professor Michael Feige, 58; and 32-year-old Mila Mishaev of Rishon Letzion.
Ben-Ari's wife was with him at the time of the attack, which took place in the busy Sarona Market; she is currently hospitalized in moderate condition after suffering gunshot wounds herself.
Ido, a former fighter in the IDF's elite Sayeret Matkal unit, also leaves behind two children. His funeral will take place this evening at 6 p.m. at Yavneh cemetery.
Ilana Naveh, a mother of four children, was reportedly murdered while celebrating her 40th birthday. She will be buried in Petah Tikva this evening.
Feige, too, was a father to three children, and a prominent professor at Ben Gurion University.
Mila Mishaev was engaged to be married, and according to reports managed to call her boyfriend immediately after she was shot multiple times. She had been waiting for him at the restaurant when the gunmen opened fire. 
16 other people were injured in the attack, including three people with serious wounds.
The shooting spree was carried out by two cousins from the Palestinian village of Yatta, next to Hevron. Overnight, officials at Ichilov Hospital say the victims' conditions have improved considerably, and they are out of danger and stable.
One of the terrorists was arrested immediately after the attack, after being shot and wounded by a security guard, while the second one was shot and captured alive by police after a brief chase.
Security guards from the nearby Israel Broadcasting Authority offices prevented a far greater tragedy by quickly rushing to the site to neutralize the terrorists.
Meanwhile, the IDF has sealed off Yatta and is conducting arrests in response to the deadly attack.