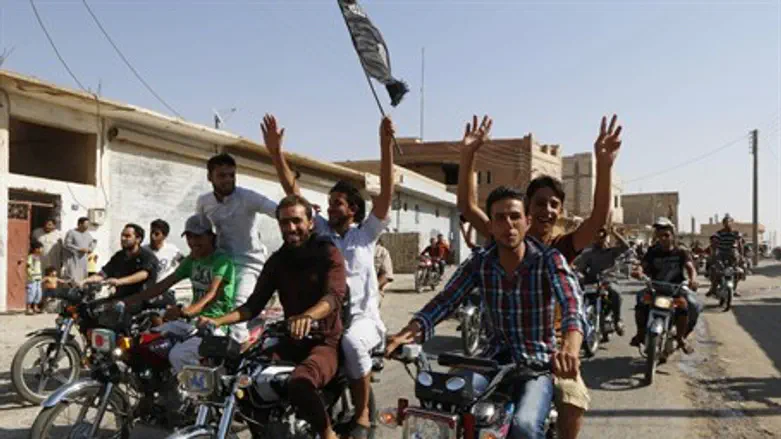 ISIS fighters near Tabqa in Syria
Reuters
Syrian regime troops and loyalist militia advanced on Syria's largest dam with Russian air support on Monday, threatening to cut off the jihadists' bastion Raqa from the Turkish border, a monitor said.
 The advance took the army to within 24 kilometers (15 miles) of Lake Assad, the vast reservoir in the Euphrates Valley contained by the Tabqa dam, the Syrian Observatory for Human Rights said.
The jihadists are being caught in a pincer movement by Russian-backed government forces advancing on Tabqa from the southwest and US-backed Kurdish and Arab fighters advancing on the dam from the north.
The coincidence of the twin offensives has raised speculation about possible covert coordination between the two governments on their operations in Syria.  
Washington's allies in the Syrian Democratic Force have also attacked ISIS farther north, crossing the Euphrates near the Turkish border and nearing the jihadist-held city of Manbij.
Manbij lies at the heart of a pocket of ISIS-held territory along the border that US commanders regard as the principal entry point for foreign fighters and funds.
Washington has deployed more than 200 special forces troops with the SDF to oversee the offensive.
The SDF has captured more than 40 villages from ISIS since it launched the operation last week. It has lost 19 fighters while the jihadists have lost 56, according to the Britain-based Observatory.
The Syrian government has lost nine troops and militiamen in its advance, which has killed at least 70 ISIS fighters since Saturday.  
AFP contributed this report.