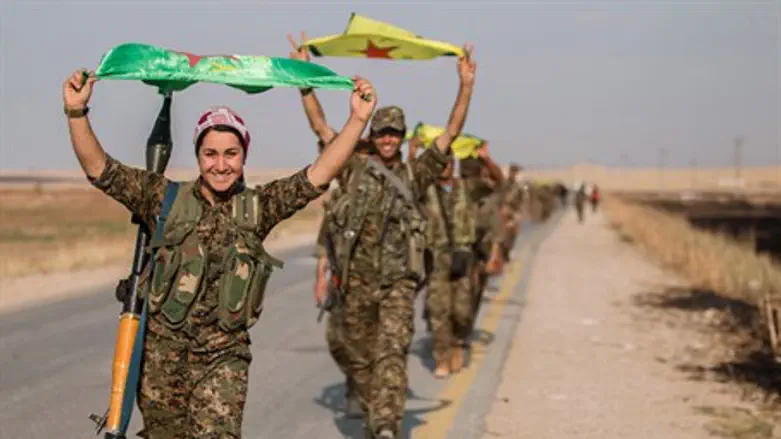 Kurdish YPG fighters in northern Syria
Reuters
US-backed Syrian rebels advancing on Islamic State group fighters in the strategic northern town of Manbij have progressed to within five kilometers (three miles) of the jihadist bastion, a monitor said Sunday.  
Supported by air strikes by the US-led coalition battling ISIS in Syria and Iraq, the Syrian Democratic Forces (SDF) alliance of Kurdish and Arab militias launched an assault last week on Manbij.
"The Syrian Democratic Forces are now within about five kilometers of the strategic city of Manbij," said the Syrian Observatory for Human Rights, a Britain-based monitoring group.
Manbij is located along a route connecting Raqqa - the ISIS group's de facto capital in Syria - to the Turkish border, a vital conduit for supplies and foreign fighters.  
US Central Command spokesman Colonel Patrick Ryder said on Saturday that SDF fighters had seized more than 100 square kilometers (40 square miles) of territory during the advance.
More than 55 air strikes have been carried out since the offensive began last Monday, he said, adding that the goal was to hamper ISIS's ability "to move fighters, weapons, finances (and) supplies into and out of Syria and Iraq."
Some 3,000 Arab fighters were taking part in the offensive, backed by around 500 Kurdish militia members, he said, adding that US special forces were working "at the command and control level" in the operation.  
Russian-backed Syrian troops are also advancing against ISIS in Raqqa and on Saturday pushed into the province from the southwest, moving to within 40 kilometers (25 miles) of the Euphrates Valley town of Tabqa, site of the country's biggest dam.
AFP contributed this report.