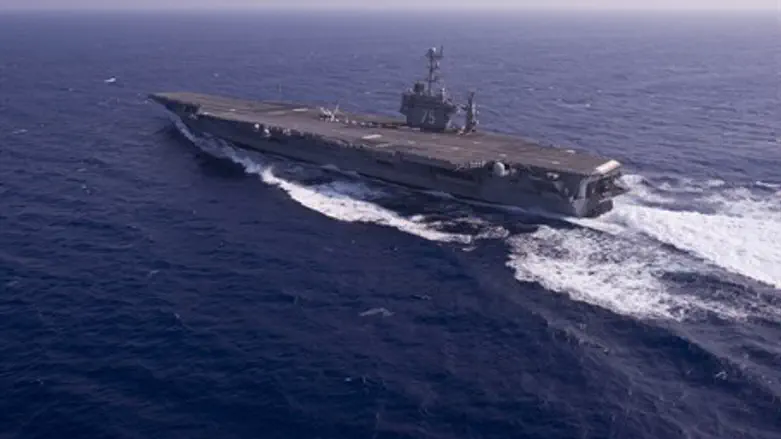 The USS Harry S. Truman aircraft carrier
Reuters
American warplanes on Friday conducted "combat sorties" in support of the ongoing campaign against the Islamic State (ISIS) group from an aircraft carrier in the Mediterranean, the Navy's Sixth Fleet announced.
The statement did not specify if the planes had carried out strikes or hit any possible targets after taking off from the USS Harry S. Truman, which returned to the Mediterranean on Thursday.
It had been based since December in in the Persian Gulf, where it was one of the main launchpads for allied strikes aimed at degrading ISIS and eliminating its leadership.
A U.S. official had earlier confirmed ammunition drops on Friday to a U.S.-backed group advancing on the northern Syrian town of Manbij, which is held by Islamic State.
In a statement the Sixth Fleet said: "The Harry S. Truman Carrier Strike Group conducted combat sorties from the Mediterranean in support of Operation Inherent Resolve over Syria and Iraq June 3, 2016."
Sixth fleet commander James Foggo said: "While the Harry S. Truman Carrier Strike Group is in the 6th Fleet area of operations (the Mediterranean), they continue to project power ashore against terrorists and violent extremists.
"This exemplifies our Navy's mobility, flexibility and adaptability, as well as our commitment to execute a full range of military operations in concert with our indispensable European allies and partners."
Fifth fleet commander Kevin Donegan said the Truman's strike group had "brought enormous pressure to bear against Daesh" while operating in the Middle East, using the Arabic name for ISIS.
The USS Harry S. Truman was involved in an incident in late December when the Iranian navy test fired several rockets near three Western warships, including the American aircraft carrier.
Iran later boasted of having flown a surveillance drone over the USS Harry S. Truman in the Persian Gulf and of taking "precise" photographs of it.
AFP contributed to this report.
(Arutz Sheva's North American desk is keeping you updated until the start of Shabbat in New York. The time posted automatically on all Arutz Sheva articles, however, is Israeli time.)