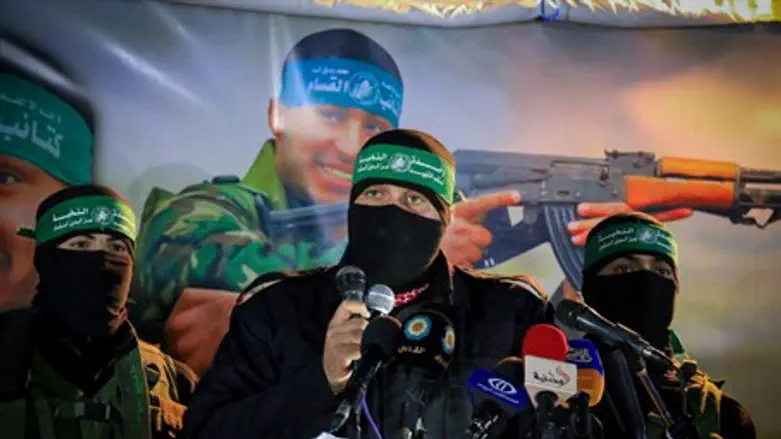 Hamas, file
Abed Rahim Katib
Hamas and three other Palestinian terror groups on Friday condemned Paris talks aimed at restarting moribund peace negotiations with Israel.
Palestinian Authority (PA) chairman Mahmoud Abbas and his Fatah movement have thrown their weight firmly behind the French initiative, which hosts representatives of some 25 countries, the United Nations, European Union and Arab League, on Friday.
Israel has rejected the initiative and in parallel the terrorist Islamist Hamas group has also condemned talk of a negotiated settlement.
"The ideas presented by France in the form of an initiative represent a serious infringement on the shared national principles of Palestinians, especially the right of return," read a joint statement from Hamas, Islamic Jihad, the Popular Front for the Liberation of Palestine (PFLP) and the Democratic Front for the Liberation of Palestine (DFLP).
Palestinian Arabs insist on a "right of return" similar to the Right of Return allowing anyone with 25% Jewish heritage to return to Israel - even though the ancestors of the Palestinian "refugees," for the most part, fled willingly in 1948. 
Neither the PA nor Israel are represented in the Paris talks, which aim to lay the ground for a full-fledged peace conference to be held by the end of the year - despite the US failing multiple times with such an initiative and both parties involved being determined to ignore the talks. 
"We stress our rejection of this initiative and of every move which aims to return to futile negotiations," Friday's statement added.
Speaking at the opening of the conference, French President Francois Hollande urged Israel and the Palestinians to make a "courageous choice" for peace.
After decades of failed negotiations, few believe the climate is right to bring together Israelis and Palestinians for another shot at solving one of the world's longest-running conflicts.
But senior Palestinian official Saeb Erakat said France's bid offered "a flicker of hope" for a resolution to the conflict.
AFP contributed to this report.