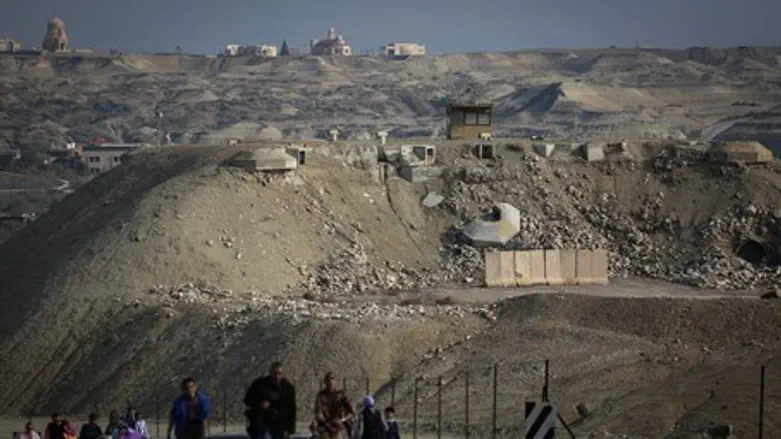 Israeli-Jordanian border (file)
Hadas Parush/Flash 90
History books provide glimpses of nearly a century of ties between Hashemite rulers and Jewish leaders, starting with the pre-state of Israel.  
Dr. Chaim Weizman of the Zionist Organization met with Emir Faisal in January 1919 and signed an agreement of understanding. T.E. Lawrence (of Arabia) was the interpreter for the meeting, but it is not certain to this day just how much of an "agreement" it was. Nevertheless the acts of meeting and dialogue were monumental.
Weizmann - Faisal meeting, 1919 (Syrian Times)
Days before Israel's declaration of independence in May 1948, Golda Meir travelled to Jordan disguised as an Arab peasant to meet with King Abdullah to urge him to stay out of the pending Arab attack on the soon-to-be state. (He didn't.)

On September 25, 1973, Abdullah's grandson, King Hussein of Jordan, secretly visited Israel to warn Prime Minister Golda Meir of imminent attacks on Israel by Egypt and Syria. (Tragically, his warnings were not given their due seriousness.)

These two photographs, however, fill in some of the years. The first shows Emir Abdullah's personal bodyguards in 1922 -- armed Jewish Yemenite warriors from the Habani tribe. The three men were brothers -- Sayeed, Salaah, and Saadia Sofer. Notice their traditional side curls (peyot). The men of the Habani tribe were known as tall, muscular and fierce warriors.
Hashemites also used Circassian bodyguards.
Emir Abdullah with his Jewish bodyguards (1922, Bible Discovered)
In 1932, King Abdullah was again in close relations with the Jewish Yishuv when he inaugurated the major hydro-electric power plant in Naharayim located on the Transjordan side of the Jordan-Yarmuk Rivers confluence. The Jewish project was headed by Pinhas Ruttenberg, the founder of the Palestine Electric Company. The joint project required security cooperation between the two sides to protect the plant and power lines. 

More information on the power plant can be found here, The Great and Electrifying Pinchas Ruttenberg. 
Ruttenberg watches Emir Abdullah start the turbines at the Naharayim power plant. (1932, Library of Congress)
Is that one of Abdullah's bodyguards watching on the right?
For  more history in pictures, click here.