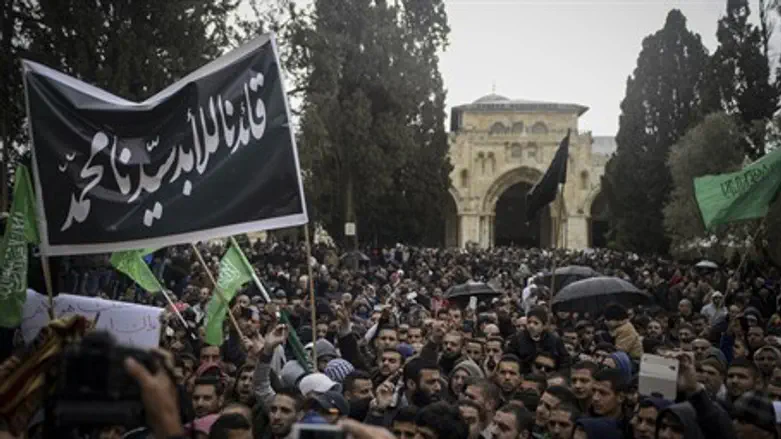 Palestinians on Temple Mount (file)
Sliman Khader/Flash 90
Palestinian Arab organizations are planning to flood Al-Aqsa Mosque on the Temple Mount with Arab visitors for Jerusalem Day this coming Sunday.
Jamal Amru, an "investigator of Jerusalem affairs," spoke to the Hamas paper Palestine on Thursday about the preparations.
He said the Palestinians are preparing to take in a large number of visitors at Al-Aqsa Mosque on Sunday from all over "Palestine," indicating sovereign Israel, Judea, Samaria and Gaza.
Amru estimated that there will likely be clashes between Muslims and Jews at the Al-Aqsa Mosque on Sunday evening, when the Muslims perform their tarawih prayer at the start of Ramadan even as Israelis take part in the traditional Rikudegalim flag parade.
The annual Rikudegalim flag dance celebrates the liberation of the 3,000-year-old ancient Jewish capital in the 1967 Six Day War by waving Israeli flags and singing songs on Jerusalem Day.
Al-Aqsa is located on the Temple Mount, the holiest site in Judaism, where the Jordanian Waqf has been left with de facto control and has banned Jewish prayer in a discriminatory breach of Israel's freedom of worship laws.