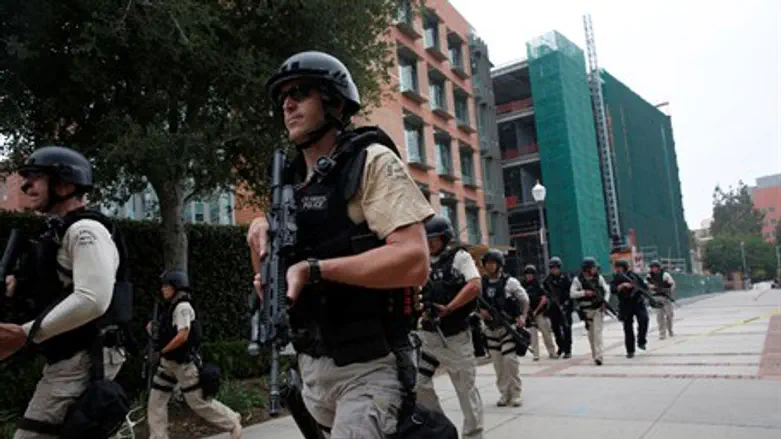 UCLA, now
Reuters
Two people - both males - are dead in a murder-suicide at University of California Los Angeles (UCLA) Wednesday. 
The shooter murdered his victim in Engineering Building 4, in Boelter Hall on the Westwood campus. 
The student newspaper the Daily Bruin revealed in real-time that the shooter was wearing a black jacket and black pants; the site was shut down due to traffic overload.
The Federal Bureau of Investigation (FBI), the LAPD, K-9 units and bomb squads, and the the U.S. Bureau of Alcohol, Tobacco, Firearms and Explosives are at the scene. 
Law enforcement are not sure of the motive behind the shooting, and have not yet identified the shooter or victim. Los Angeles Police Chief Charlie Beck said a gun was recovered at the scene. 
"We have still, on campus, an active investigation [...] and we are still actively searching for a suspect," the chief of police at UCLA announced moments ago (Update: 9:39 pm). "We have literally have hundreds of police officers and agents on campus assisting in the active investigation." 
"We will continue to go until this campus is safe," he added. 
More than 40,000 students study at the UCLA campus. Final exams are set for next week, with graduation scheduled for Friday. 
The campus was on lockdown since 10:00 am local time, but it was lifted just before 12:30 pm - after SWAT teams searched floor by floor.
The doors to classrooms only open on the outside, so students were forced to create their own locks or barricades. 
Matt Wanderman contributed to this report.