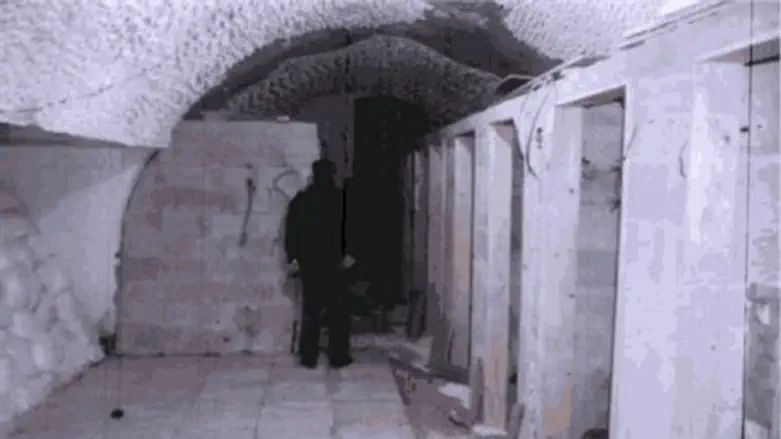 Illegal building
Regavim
Archaeologist Dr. Gabi Barkai, a member of the Committee for Preventing the Destruction of Temple Mount Antiquities, welcomed a decision Prime Minister Binyamin Netanyahu made Tuesday to stop the Jordanian Waqf from building toilets at the foot of the Temple Mount.
More measures are needed to save the site, however, he explained in a special interview with Arutz Sheva. 
"Sewage infiltrating areas of the Western Wall tunnels is the dangerous possibility; beyond that there is a danger of flooding," Barkai said, noting that serious restoration work needs to be done and that there "are not enough stop-work orders." 
Barkai argues that beyond the risk of flooding, the Waqf is guilty of one of the most severe injuries antiquities ever.
"The construction has been going on for two years - I'm surprised that it's just in the headlines now," he said. "There is a terrible crime of trying to break through openings in the walls of the Temple Mount, at the northwestern corner of the Temple Mount adjacent to the western Wall, its highest point.
"There is art there which had adorned the walls of the pillars of the Temple Mount, there are important archaeological remains there," he continued. "So what is happening there today is a crime of the first order, breaking there all the possible laws, licensing laws and the laws of the Israel Antiquities Authority." 
The Jerusalem Municipality issued the stop-work order Tuesday against a building project for dozens of toilets and showers just outside the Temple Mount. The Waqf had been working on the partially-completed structure illegally. 
Agriculture Minister Uri Ariel (Jewish Home) welcomed the move, noting its timing just before Jerusalem Day. 
"On the eve of Jerusalem Day, we witnessed a severe blow to the Muslim Waqf to Israeli sovereignty over the holiest site to the Jewish people," Ariel stated.
"Illegal construction of the Muslim Waqf on an archaeological site near the Temple Mount is a very serious matter and we must not be content with serving writs, but with the realization of that writ via law enforcement."