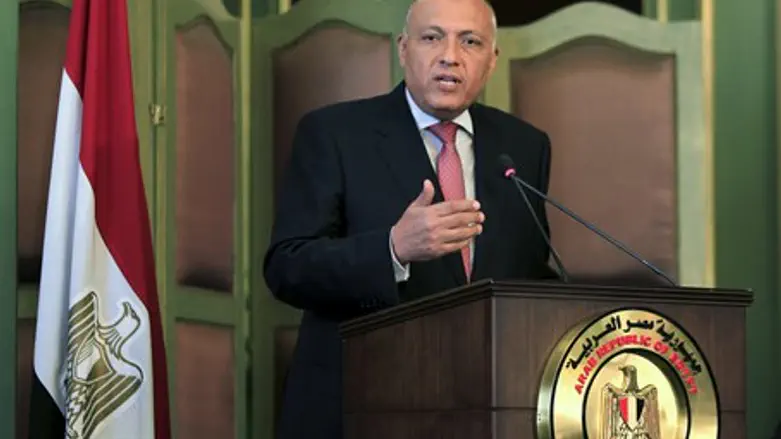 Egyptian Foreign Minister Sameh Shoukry
Reuters
Egypt has agreed to investigate allegations that one of its diplomats referred to Black Africans as "slaves and dogs" during a UN conference last week - while at the same time denying the incident ever took place.
According to Kenyan diplomat Yvonne Khamati, who heads the Africa Diplomatic Corps technical committee, the racist remarks targeting Sub-Saharan Africans came at the end of the United Nations Environment Assembly in Kenya last week.
Kenya's Capital News identified the Egyptian official in question as Egypt's Minister for Environment Khaled Fahmy, who is also President of the African Ministerial Conference on the Environment.
The comments were made in Arabic, but were understood by many Sub-Saharan African delegates, who were shocked and infuriated.
Khamati has lodged a complaint, demanding an official apology from Cairo.
According to her memo, the Arab official lashed out after a resolution about Gaza tabled by Arab states failed to pass, as too many delegates had already left the conference.
"Divisions evolved when the resolution on Gaza as not adopted due to a lack of quorum because most delegations had left. As a result, a few African delegations consulted with the delegation of Morocco, in their capacity as Chair of the Arab League and Egypt, with the view to the view to dissuade them from nullifying the resolutions that had already been adopted before the issue of quorum was raised," Khamati wrote.
"During our consultations with Egypt, the head of the Egyptian delegation and current President of AMCEN dismissed our concerns by informing that they would speak in their sovereign capacity and to that extent, referred to sub-Saharan Africa as dogs and slaves, in Arabic," she added.
Khamati also took to Twitter to blast the Egyptian official's racist conduct.
"He spoke to his delegation in Arabic in the presence of African delegates that understand Arabic," she tweeted, and slammed the comments as "uncivilized, undiplomatic, degrading and insulting the fabric of Pan-Africanism."
Apart from a swift condemnation and apology from Egypt, Khamati has further demanded the resignation of the official in question from his position as President of the African Ministerial Conference on the Environment.
But the accused Egyptian official - Minister of Environment Khaled Fahmy - strenuously denied that "any Egyptian official could utter with such words."
And while Egypt's Foreign Minister Sameh Shoukry announced he would be launching an investigation, he simultaneously prejudged the case, claiming that there was "no evidence" any such comment had been uttered.
In an official statement, the Egyptian Foreign Minister even lashed out at Khamati, communicating its "rejection and denunciation of the African Technical Committee Coordinator's exceeding of her mandate, as well as Egypt's rejection of the offenses towards Egypt contained in the memorandum."
Anti-Black racism is a serious problem in much of the Arab world, where Sub-Saharan Africans are commonly referred to aas "abed," which means "slave."