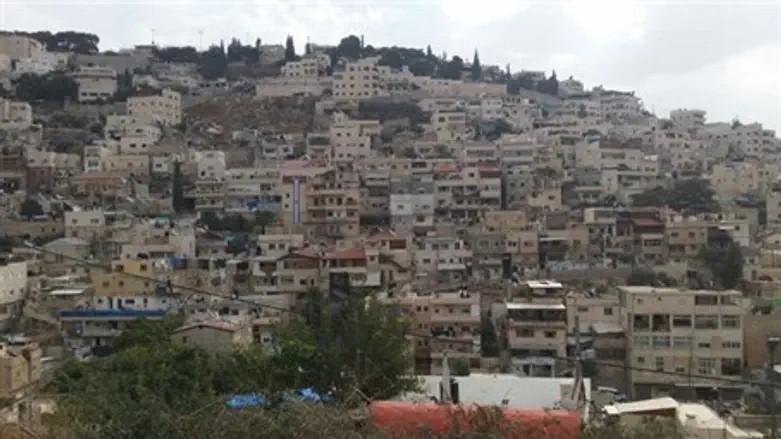 Sillwan (Shiloach)
Ateret Cohanim
The local zoning and building committee is set to approve on Wednesday the construction of a new three-story building for the growing Jewish community in Shiloach (Silwan).
The building will be built near Beit Yonatan, a seven-story apartment building owned by the Ateret Cohanim foundation, which seeks to reclaim Jewish properties in the Old City of Jerusalem and surrounding neighborhoods.
Known in Hebrew as Shiloach, the modern day Arab neighborhood of Silwan includes Ir David – the ancient City of David, believed to be the original location of the city of Jerusalem.
The neighborhood was mostly Jewish prior to the 1930s, when Arab riots forced residents to abandon the area. Known for decades as "Harat al-Yaman", the neighborhood was inhabited primarily by Yemenite Jews until the 1936-1939 Arab revolt.
The state has endorsed the building plan, which, barring last minute intervention by the Prime Minister's Office, is expected to be approved on Wednesday.
According to a report on Army Radio, the land for the project was sold by the state to Ateret Cohanim in 2005.
The left-wing Ir-Amim NGO blasted the planned construction, calling Jewish settlement in the neighborhood a "threat" to the Arab population.
"The settlement in Silwan is entirely the work of the state, and it raises to new heights the threats against Palestinians in Jerusalem," said Aviv Tetrasky of Ir-Amim.
"In the short run the state has succeeded in transferring properties in Palestinian neighborhoods to settler groups and to undermine the social fabric in Silwan. But in the long run all of the city's residents pay the price."