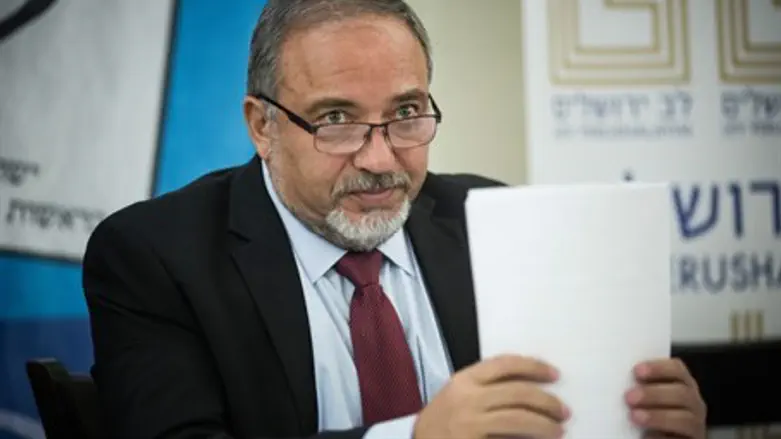 Avigdor Liberman
Yonatan Sindel/Flash 90
The Israeli government on Monday morning formally approved the appointment of Yisrael Beytenu party leader Avigdor Liberman as defense minister.
"The cabinet unanimously approved the appointment of Avigdor Liberman as minister of defense," a statement from Netanyahu's office said.
The unanimous cabinet approval came after Prime Minister Binyamin Netanyahu finally secured the vital backing of the Jewish Home party, after a compromise deal with Education Minister Naftali Bennett was successfully brokered by Health Minister Yaakov Litzman (UTJ).
Bennett had demanded the creation of a military liaison for the government's security cabinet, a smaller forum of cabinet members which decides on matters of national security.
The Jewish Home leader insists such a post is needed to avoid security cabinet members being kept in the dark on important developments, pointing to aspects of the 2014 conflict with Palestinian terrorists in Gaza, among other concerns.
Under the compromise brokered by Health Minister Yaakov Litzman, of the haredi United Torah Judaism party, security cabinet members will receive frequent personal briefings from Israel's National Security Council as an interim measure, while a committee of experts looks at ways to improve procedure.
The appointment will now be voted upon in the Knesset later Monday, where it will garner the majority of votes it needs to be formally approved. With that, the Yisrael Beytenu party will officially join the government, expanding its wafer-thin majority of one by five, to 66 seats in total (out of 120).
In addition, Yisrael Beytenu MK Sofa Landver was appointment Immigration and Absorption Minister, while Likud MK Tzahi Hanegbi was appointed Minister without portfolio to the Prime Minister's Office.
AFP contributed to this report.