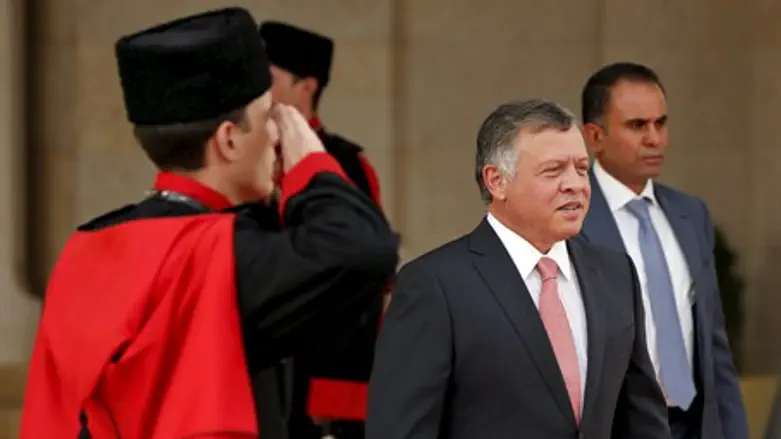 King Abdullah of Jordan
Reuters
Jordan's King Abdullah on Sunday dissolved the country's parliament and appointed veteran politician Hani Mulqi as caretaker prime minister, Reuters reported.
Mulqi has been charged by the king with organizing new elections by October.
The king accepted the resignation of Prime Minister Abdullah Ensour before appointing Mulqi by royal decree. Under the constitutional rules the election must be held within four months, noted Reuters.
Jordan's main political opposition comes from the Muslim Brotherhood movement but it faces increasing legal curbs on its activities, leaving mostly pro-monarchy parties and some independent Islamists and politicians to compete in these elections, political analysts say.
The Jordanian branch of the Muslim Brotherhood was designated by the kingdom as a terrorist group in December of 2014 and one of its top members was later charged with "souring ties with a foreign country" by criticizing the United Arab Emirates (UAE).
At the same time, compared with the tough crackdowns on Islamist groups in Egypt and Gulf countries, Jordanian authorities have been relatively tolerant of the Brotherhood's presence.
The Brotherhood wants sweeping political reforms but stops short of demanding the overthrow of the monarchy in Jordan, noted Reuters.
Its political arm in Jordan, the Islamic Action Front, represents many disenfranchised Jordanians of Palestinian origin, who are in the majority in the population of seven million and live mostly in urban areas.
Though Jordan has a peace treaty with Israel, the country's parliament, which is made up mostly of Islamists, remains anti-Israel and its members have more than once called to annul the peace treaty.