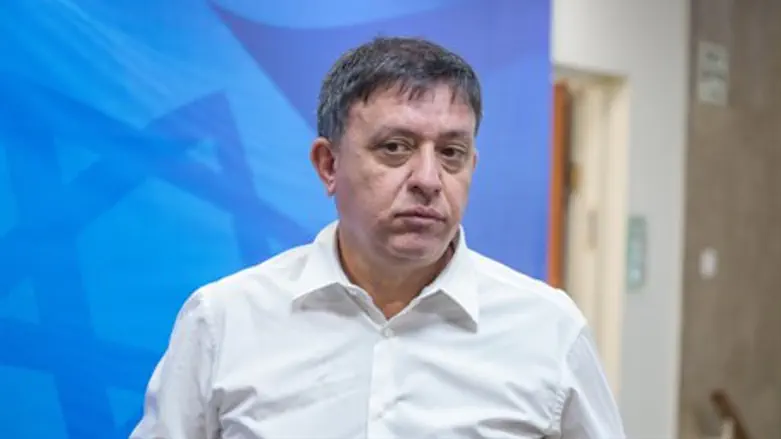 Avi Gabay, file
Emil Salman/POOL/Flash90
Environmental Protection Minister Avi Gabay (Kulanu) resigned from his post Friday, in protest over the appointment of Yisrael Beytenu chairman Avigdor Liberman to the post of Defense Minister. 
"Despite the great importance I see in the office and the significant actions we have furthered to reduce air pollution [...] the latest political moves and the replacement of the defense minister are terrible moves in my eyes which ignore what's truly important for the country's security, and will cause further radicalization and rifts among the people," he stated. 
Gabay's resignation as Minister also removes him from politics, as he is a member of the government but not of the Knesset.
"I would like to thank the Chairman of Kulanu for the support, trust and assistance [he has provided] and I have no doubt that the Kulanu movement will continue to achieve the goals we set at the time of its inception," he added.
The Environmental Protection Ministry is expected to remain in Kulanu's hands. 
MK Erel Margalit (Zionist Union) commented on Gabay's resignation Friday, praising him for taking a stand against Liberman.
"The Environmental Minister smelled moral pollution and resigned, as Kahlon continues to hold the hand of the hilltop youth government and thinks no one will notice."
"I call on the Minister of Finance to discover the straight path and stop this extremism," he continued. "You're not absolved of responsibility." 
"[Prime Minister Binyamin] Netanyahu made history when he appointed the most extremist government in Israeli history, where even its own ministers do not approve of where it's going, and know you can't rely on it," MK Ayelet Nachmias-Varbin (Zionist Union) fired Friday. "The Environmental Protection Minister has proven, over the past year, that the only thing he cares about is what's good for the environment and for the State of Israel - in contrast to Netanyahu, who only cares about keeping his seat."