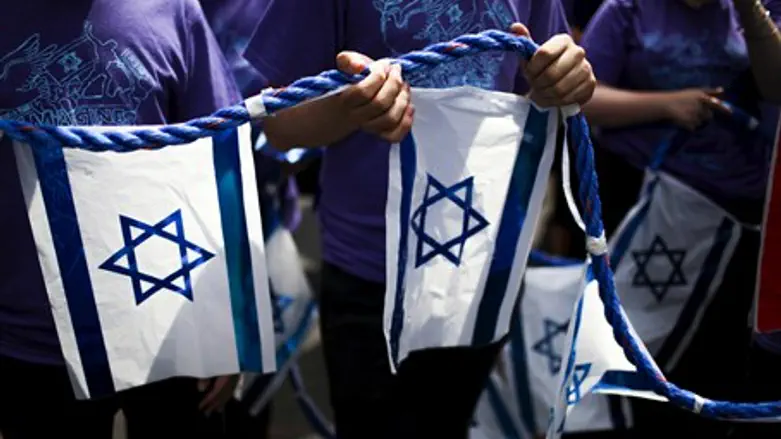 Celebrate Israel Parade (file)
Reuters
The Empire State Building will turn blue and white in honor of the Jewish state on Sunday, June 5, putting on a dazzling light display in time for the 2016 Celebrate Israel Parade in New York City.
Tens of thousands of marchers, marching bands, floats, and hundreds of thousands of onlookers are to take part in the annual celebration of Israel as it marches up Fifth Avenue. The event is managed by the UJA-Federation of New York, the Jewish Community Relations Council (JCRC) of New York, and the Consulate General of Israel in New York.
This year marks the 52nd anniversary of the parade, which has grown dramatically in size since being launched in 1965.
Notable names in the parade include TV host Kathie Lee Gifford who will lead the parade as honorary grand marshal, Israeli-born entrepreneur specializing in outdoor advertising Moshe Gil who will serve as grand marshal, and Ambassador Ido Aharoni who is the Consul General of Israel in New York.
In a first, the parade will be part of the global International Unity Day which seeks to promote global Jewish unity, and is sponsored by UJA-Federation and Gesher. Capping off the parade will be the 2016 Celebrate Israel Unity Festival where over 5,000 participants are expected, in an event hosted by the Israeli American Council (IAC) and sponsored by UJA-Federation.
"The Israel Day Parade is the largest demonstration of support for Israel in the world, gathering together Jews of all denominations and backgrounds," said Eric S. Goldstein, CEO of UJA-Federation of New York.
"We are thrilled that this year, in addition to the parade, we are presenting many opportunities for Jewish New Yorkers to celebrate and demonstrate our collective support for Israel."
Over 250 organizations are set to march from 57th Street to 74th Street along Fifth Avenue in the parade - they include groups of motorcyclists, rollerbladers, dancers and clowns. This year's theme is "Israel: Sight, Sound and Spirit!"
The parade will be broadcast through the greater New York area on Fox affiliate WWOR-TV My9 between 12 p.m. and 2 p.m. local time, and also streamed online from 12-3 p.m. for viewers worldwide, in a coverage arrangement now entering its sixth year.
Performers at the parade are to include SOULFARM, the Maccabeats, Milk & Honeys - an Afro-Hebrew New York-based band, DJ Lee Epstein, and members of the Israeli Dance Institute.
In a first for the parade, cast members of the Broadway production of Fiddler on the Roof are to ride in a special float while singing some of the famed musical's most beloved songs, and they will perform live for the TV audience at the parade grandstand.
After the parade winds down, the Celebrate Israel Unity Festival will start at 2 p.m. and last until 7 p.m. at Terminal Five, located at 610 West 56th Street. Participants will enjoy Israeli food, live entertainment and music, as well as art and activities for all ages.
Israeli children's entertainer Michal Haktana will be there, as will the children's band Hot Peas 'N Butter, musician Josh Nelson, and the Tzofim Friendship Caravan.
Jewish Unity Day was created in memory of Eyal Yifrah (19), Gilad Sha'ar (16) and Naftali Frenkel (16), who were abducted and murdered by Hamas terrorists in June 2014.
Four parents of the murdered teens - Bat-Galim and Ofir Sha'ar as well as Racheli and Avi Frenkel - will be hosted by UJA-Federation and Gesher for events throughout the area on Jewish Unity Day.
More information on the events can be found by clicking here.