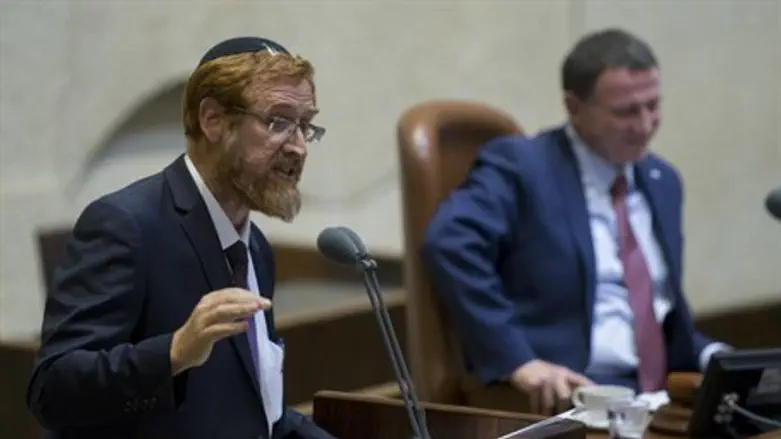 Yehuda Glick's inaugural Knesset address
Yonatan Sindel/Flash90
Israel's newest Knesset Member was sworn in during a ceremony on Wednesday, filling the vacancy created by former Defense Minister Moshe Yaalon, who announced his resignation from the Knesset last week.
Temple Mount activist Yehuda Glick (Likud) gave his inaugural address during the ceremony, along with returning United Torah Judaism MK Yaakov Asher.
Asher, who previously served in the 19th Knesset, was seventh on the party list in 2015, leaving him without a seat when the party slipped to six seats in the election that March. Asher returned to the Knesset as part of a rotation agreement between the Agudat Yisrael and Degel HaTorah factions within UTJ. As part of the agreement, Deputy Education Minister Meir Porush of Agudat Yisrael resigned, clearing the way for Asher, of Degel HaTorah.
During his speech, Glick, a resident of the town of Otniel near Hevron, pledged to be a "loyal representative of the half a million Israeli citizens in the lands of Judea and Samaria."
At the same time, Glick also emphasized the need to sympathize Palestinian Arabs.
"I know that some two million Arabs, or Palestinians, whatever you want to call them, also live [in the Land of Israel]. While we built a magnificent country that is one of the most advanced and moral in the world, their leadership preferred to have many of them continue to live in refugee camps."
"Their leadership convinced them and deluded them… It seems that anyone who has eyes in his head realizes that the option of a Palestinian state [no longer exists], but anyone who sees hundreds of Palestinians standing every day behind fences, or rather every night – with tense anticipation to cross and work – and does not feel a deep pinch in the heart – should go back and develop basic human sensitivity."
Asher used his Knesset address to blast what he called the "war against the haredi public and its representatives in the Knesset."
"That campaign was aimed at delegitimizing the haredi public - particularly its leaders and representatives," said Asher. "They tried to present us is in a black light, [blacker] than the jackets we are wearing. A year and a half has passed, during which a government was replaced, and haredi MKs now fill important positions in the country`s leadership. And, `remarkably`, Mr. Speaker, these MKs top the popularity polls and people are pleased with their work as ministers, as committee chairpersons and as efficient and diligent Knesset Members."

"Israeli society suddenly saw the representatives of the haredi public as they really are, and not as people tried to depict them until recently. This helps mend the rifts within the nation. We can definitely see a drastic reduction in the incitement against the haredi public and a sharp increase in the public`s appreciation for the work of its representatives," Asher said.