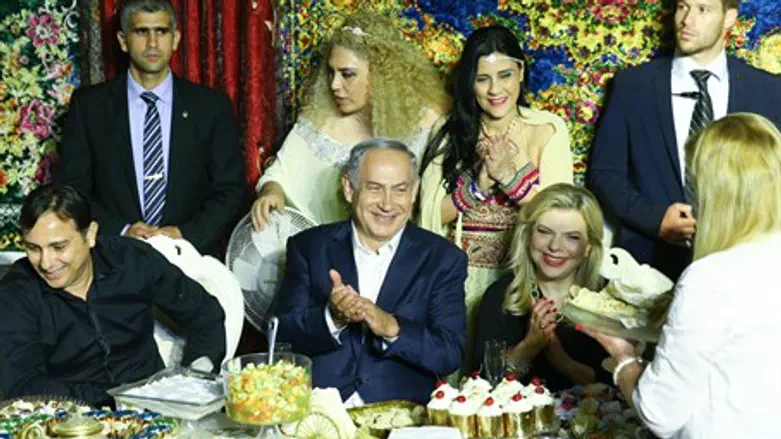 Binyamin and Sarah Netanyahu at Moroccan Mimouna celebrations
Flash 90
Prime Minister Binyamin Netanyahu revealed that he has discovered his Lithuanian Jewish ancestry is not fully Ashkenazic, but actually at least partially hails from the Sephardic Jewry of Spain in tracing back through the years of exile from Israel.
The surprising revelation was unveiled by the Prime Minister during an event launching a new wing at Beit Hatfutsot - The Museum of the Jewish People located in northern Tel Aviv, reports Yedioth Aharonoth.
During the event the museum's chairwoman of the board Irina Nevzlin, who coincidentally is marrying Knesset Speaker Yuli Edelstein in under a month, gave Netanyahu his family tree as compiled by the museum.
Netanyahu spoke at the event, and said that after having quickly checked the family tree he was presented with, he found it needs correction.
"My brother, Ido, is an author and doctor. People who make family trees with DNA tests contacted him. Their thesis was that Jews of Lithuania - and we came from a family from Lithuania descended from the Gaon of Vilna - that there is an origin of Jews from Spain there," he explained.
Ido Netanyahu underwent a saliva DNA test, that revealed the Netanyahu family links back to the Sephardic Jewry of Spain.
"He did a saliva test, and indeed it came out that at least part of this (family) tree is linked to the Jews of Spain."
"Of course they're letting me know this 30 years too late as Likud chairperson," he joked, "but it shows that all of Israel are brothers, and I think that is one of the great lessons (for those) coming to this building, this institution. You see the family of the nation of Israel."