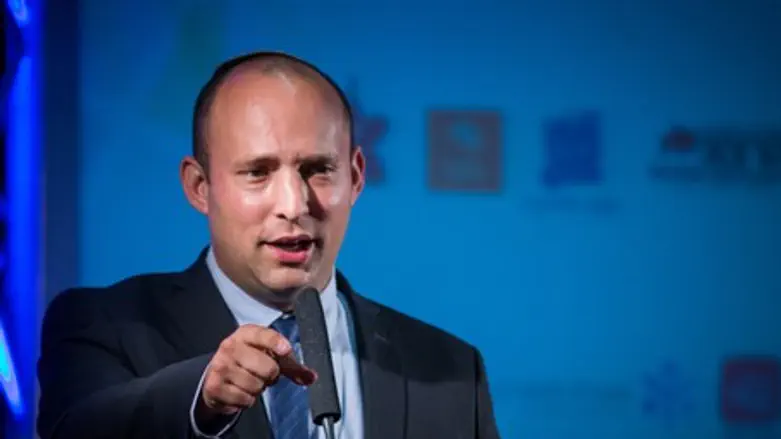 Naftali Bennett
Yonatan Sindel/Flash90
Chairman of the Jewish Home and Education Minister Naftali Bennett intends to insist on his demands to Prime Minister Binyamin Netanyahu, he announced Tuesday, after demanding the premier appoint a military secretary to update the Cabinet on IDF affairs at all times.
Following a report on Operation Protective Edge and the Second Lebanon War, it was revealed that critical intelligence was not shared with cabinet members and that they were not properly trained for their position, which resulted in a lack of competence on the part of some ministers.
Bennett's plan to correct such deficiencies includes appointing a permanent military secretary to manage security updates and assist the cabinet with their duties, increasing trips to military zones and facilitating critical information to the cabinet.
The demand has received support from various top-ranking military officials, including Prof. Uzi Arad, a former IDF spokesman Avi Benayahu and Dr. Yoaz Hendel.
Netanyahu did not respond to Bennett's statement, and the latter intends to oppose the appointment of Yisrael Beytenu chairman Avigdor Liberman as Defense Minister if the prime minister continues to deflect the proposal. 
Members of Bennett's party had harsh words for the prime minister's stonewalling of their leader.
"If Netanyahu fought Hamas the way he fights Bennett, our situation would be better," Jewish Home sources remarked to Channel 2.
Bennett made the demand to Netanyahu based on personal experience. During Protective Edge, Defense Minister Moshe Ya'alon repeatedly blocked Bennett's requests to begin a ground assault and destroy terror tunnels near Gaza; only after terrorists eventually used one of the tunnels to conduct an attack - and after Bennett had cajoled the army into drafting a plan for taking out the tunnels - was the ground operation launched.