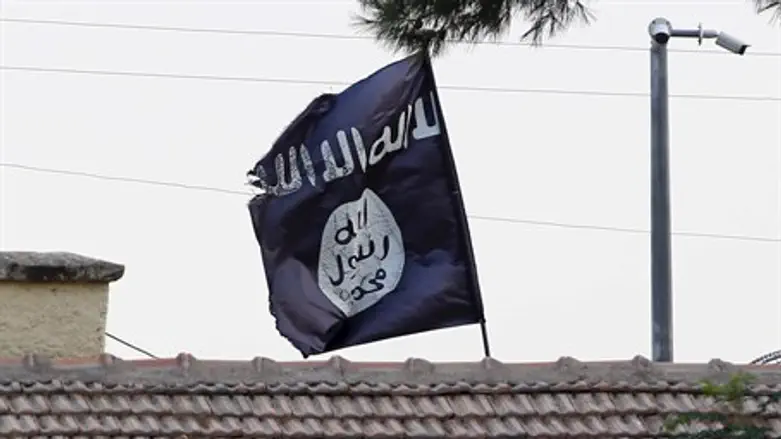 ISIS flag
Reuters
A Kosovo court on Friday sentenced an imam and six others to up to ten years in jail for recruiting fighters for the Islamic State (ISIS) or joining the group in Syria, AFP reported.
Imam Zeqirja Qazimi was handed down a ten-year sentence, the court said in a statement.
His six associates were convicted for trying to gather recruits and for fighting for the IS there from 2012 to 2014. They got jail terms ranging from three to eight years, according to AFP.
"They have intentionally called on other persons to commit or participate in terrorist acts, participate in the activities of a terrorist group and try to gather funds and material resources for it."
Qazimi had also posted a clip on YouTube in which he said that the "blood of infidels is the best drink for us."
Local media reported that Qazimi was responsible for recruiting 11 fighters in Kosovo who joined ISIS. Three of them were killed in Syria, media reported.
The men were arrested in August and were detained at a high-security prison.
As the verdict was being handed down, the court was sealed off by anti-terrorist police wearing helmets and bulletproof jackets.
Muslim-majority Kosovo is home to 1.8 million people, around 300 of whom have joined the jihadists' frontlines in Iraq and Syria in recent years – the highest ratio in any European country.
Kosovo's authorities have subsequently strengthened legislation and made high-profile arrests in a bid to root out suspected Islamist networks.
They say around 50 homegrown jihadists have been killed in fighting while around 120 have returned to Kosovo.
The phenomenon of radicalization is not unique to Kosovo, as countries in Europe as well as other Western nations have dealt with the problem of locals leaving for Iraq and Syria to join jihadists, before bringing back terrorism to their home countries.
Last week, Germany said that at least 820 Islamists have left the country to join jihadists in Syria and Iraq, voicing concerns about the rapid radicalization of minors after two recent attacks.
Another example is Russia, where intelligence recently tracked down a group working to prepare "Paris-style" attacks in big Russian cities.
AFP contributed to this report.
(Arutz Sheva's North American desk is keeping you updated until the start of Shabbat in New York. The time posted automatically on all Arutz Sheva articles, however, is Israeli time.)