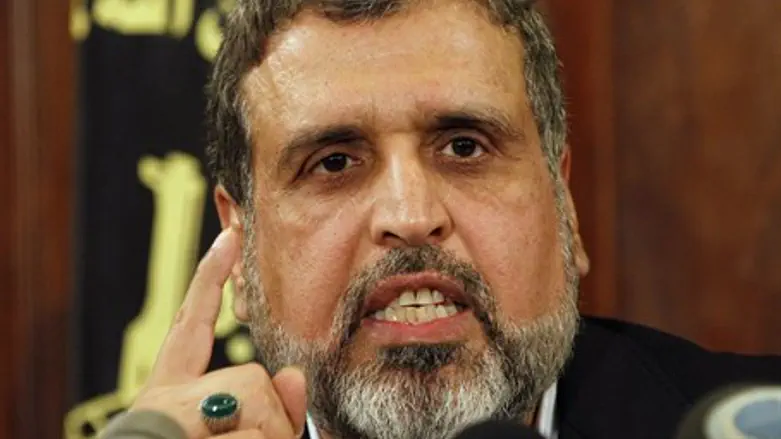 Islamic Jihad head Ramadan Shallah
Reuters
Leaders of the Islamic Jihad terrorist organization in Gaza held talks in Cairo this week with the head of Egypt's intelligence services, in a sign of Egyptian President Abdel Fattah al-Sisi's efforts to unite the Palestinian factions.
Islamic Jihad head Ramadan Shallah and his delegation were let in through the Rafah border crossing, and in Cairo they met with Egyptian intelligence head Maj. Gen. Khaled Fawzi, according to sources close to Hamas's politburo who spoke with The New Arab Thursday.
Just last month a Hamas delegation visited Egypt as well for similar high-level talks.
The meeting comes after al-Sisi on Tuesday called for a peace deal between Israel and the Palestinians, in a statement on TV that received a warm welcome by Israel's government, the Palestinian Authority (PA), and the US.
Al-Sisi also said he would work to "encourage" reconciliation between PA Chairman Mahmoud Abbas's Fatah faction, Hamas, and the other Palestinian factions including Islamic Jihad.
Ironically US-led peace talks were torpedoed by Abbas in April 2014 when he signed a unity deal with Hamas, that has yet to succeed in bridging the gap between the fierce rivals.
The statement by al-Sisi on Tuesday came a week after he met with Abbas, and vowed to use Egypt's position as UN Security Council chair for the month of May to fight for the Palestinians, in an indication of support for the French initiative that seeks to relaunch peace talks on a basis of massive Israeli concessions in return for paper guarantees from its Arab neighbors not to attack.
Islamic Jihad's Cairo visit follows after the group's terrorists visited Tehran earlier this month, where Shallah met Iran's Supreme Leader Ali Khamenei to speak about the group's terror activities against Israel. Iran provides funding for the group, as it does for Hamas.