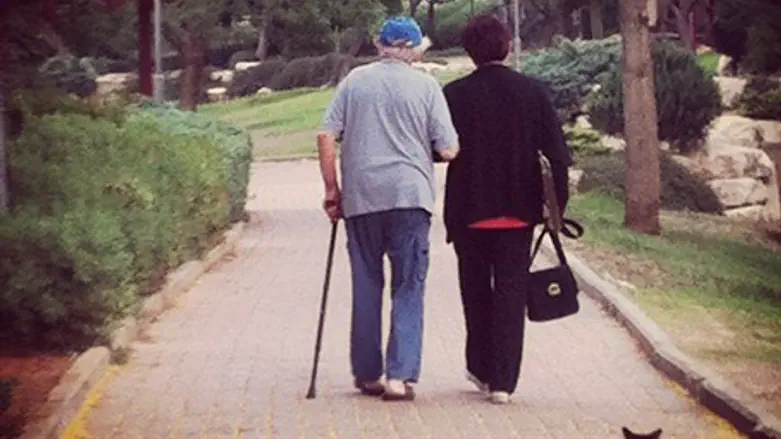 Elderly (illustrative)
Tova Dvorin
No matter where you live, you're more likely to live 5 years longer than in 2000, the World Health Organization (WHO) revealed Thursday. 
This is the sharpest rise in global life expectancy since the sixties, the report said. In the nineties, global life expectancy dropped dramatically - mainly due to the AIDS epidemic in Africa, and turmoil in Eastern Europe following the fall of the Soviet Union. 
Israel is ranked fifth in terms of men's average life expectancy, at 80.6 years - after Switzerland, Iceland, Australia, and Sweden. Israeli women's life expectancy is ranked ninth globally, at 84.3 years. 
Life expectancy's most marked rise was in Africa, where the average life expectancy has risen to 60 - a 9.4-year increase since 2000. Factors include the fight against infant and child mortality, progress in access to healthcare, and treatment of HIV. 
Children born in 2015 can expect to live, on average, to anywhere between 71.4-73.8 for women, and to 69.1 for men. Both genders can only be expected to live an active, healthy life until about 63.1. 
However, the report makes clear that life expectancy varies by country and region, including 29 countries where life expectancy is more than 80 years, all where per-capita income is very high, and 22 countries where life expectancy is less than 60, all in sub-Saharan Africa. 
Global health: where do we stand?
A full 303,000 women die in childbirth every year, the report adds, and 5.9 million children die before their fifth birthday. 
Two million people are infected with HIV each year, along with 9.6 million cases of tuberculosis and 214 million cases of malaria. In addition, more than ten million people each year die before the age of 70 from heart disease or cancer.
Findings also showed that 800,000 people each year commit suicide; 1.25 million die in traffic accidents; 7.3 million die from air pollution; and 475,000 are murdered every year. 
The report notes disease risk factors, as well - 1.1 billion people smoke tobacco, 1.8 billion consume contaminated water, 946 million live near open sewage plants, and 3.1 billion people rely on fuels which pollute. 
In addition, 156 million children under five suffer from developmental delays, and 42 million children in this age group suffer from malnutrition.