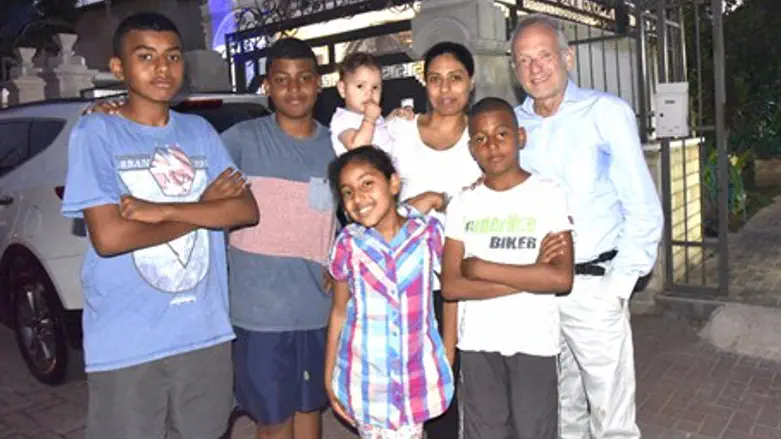 A picture from the heart-warming meeting
Photo: Sarah Levin
OneFamily, an organization that assists families and victims of terror, met on Monday with the family of Amin Shaban, the Bedouin taxi driver murdered in January's terrorist attack in Tel Aviv.
At the time of his death, Shaban was supporting three wives, as is customary in Bedouin culture, eleven children and four stepchildren. OneFamily contacted Shaban's bereaved family, and provided them with both emotitional and financial support.
OneFamily gave each of Shaban's young children a new bicycle and his children aged 17 or older received a check of $500.  Each of his widowed wives and his mother received a check for $750.
Shaban's third wife, Heba, was three months pregnant when her husband was murdered and is due to give birth in two weeks.  With Shaban's death, she had no financial support. While she had hoped to stay in the home they shared, the rent was simply too high for a single working mother. 
Moreover, Heba explained how difficult it was to find a new home since many landlords were reluctant to rent to a single mother of six children. She currently receives no assistance from the government.

Heba was moved by OneFamily's gifts and efforts and noted that no other Jewish organization had come to visit to offer help and that she had too much pride to ask for help from her Arab friends.

"When I learned about what was happening with the family, and that there were now 15 more orphans, I saw it as OneFamily's duty to step in and try to help," said Marc Belzberg, chairman of the OneFamily organization who visited the family on Monday.
"Just as any Jewish, Christian, or Muslim family in Israel, Amin Shaban's wives and children suffer from the sudden financial crisis created by terror and the immense emotional pain that goes with losing a loved one under such circumstance."
Shaban was killed in one of the most dramatic terrorist attacks of the year, when Nashat Melhem went on a rampage on Tel Aviv's Dizengoff Street, killing Alon Bakal and Shimon Ruim. An hour later while trying to escape, Melhem entered into Shaban's taxi. Shaaban had refused to cooperate with him, and was consequentially murdered.