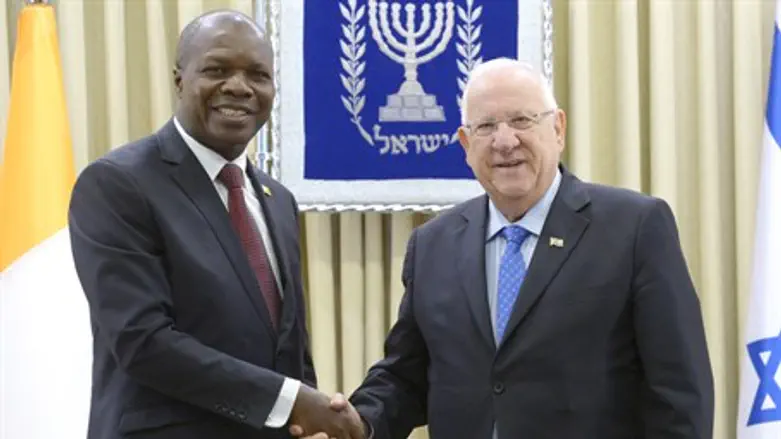 President Rivlin with FM Mabri
Photo: Mark Neiman / GPO
President Reuven Rivlin on Monday met with the Foreign Minister of the Republic of Côte d'Ivoire (Ivory Coast), Dr. Abdullah Albert Toikeusse Mabri, who is visiting Israel.
The president congratulated the Foreign Minister on his arrival in Israel and said: "The Ivory Coast is an old friend of Israel and I am pleased to welcome you to Israel's capital, Jerusalem."
The president added that exceptional bilateral cooperation has been getting stronger in recent years, and the two talked about the need to cooperate in regards to security challenges in the Middle East and worldwide.
Rivlin also told the Foreign Minister that Israel aims to obtain observer status in the African Union, which will strengthen the dialogue between Israel and the countries of the continent.
The Foreign Minister thanked the President for his warm welcome, and said, "Thank you for the honor you have given us, and for your hospitality. The relationship between our countries is indeed very old, and is becoming stronger. This is a relationship of trust and mutual appreciation between our peoples and leaders."
President Rivlin with FM Mabri
Photo: Mark Neiman / GPO