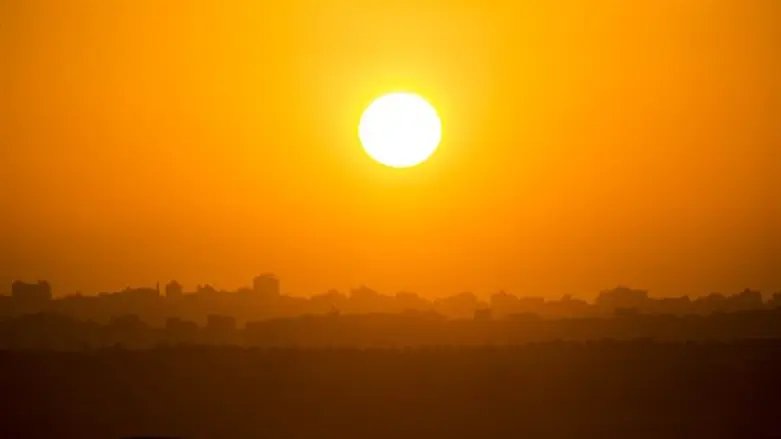 Sun Heatwave
Photo: Jonathan Zindel / Flash 90
Severe Sharav (heat wave) conditions are expected throughout the country with very high to extreme heat stress expected. From noon, there will be strong northerly winds along the coast. Tonight will be partly cloudy and relatively warm.
Highs Sunday will reach 38°C (100.4°F) in Katzkin and Nahariya; 36°C (96.8°F) in Tzfat (Safed); 42°C (107.6°F) in Tiberias; 38°C (100.4°F) in Haifa; 38°C (100.4°F) in Tel Aviv; 38°C (100.4°F) in Jerusalem; 41°C (105.8°F) in the Dead Sea area; 39°C (102.2°F) in Ashkelon; 43°C (109.4°F) in Be'er Sheva; and 45°C (113°F) in Eilat. 
The Sharav conditions are expected to continue until Wednesday.
Israeli police have issued a travel advisory due to the high heat.
"We warn hikers to avoid visiting rivers in the north Judean Desert in the late morning and afternoon. If you do choose to go there, buy enough water, bring a hat, and keep your cell phones charged for emergencies - and check on National Park Authority updates for your area." 
The police further advised travelers in distress to call the 100 police hotline.