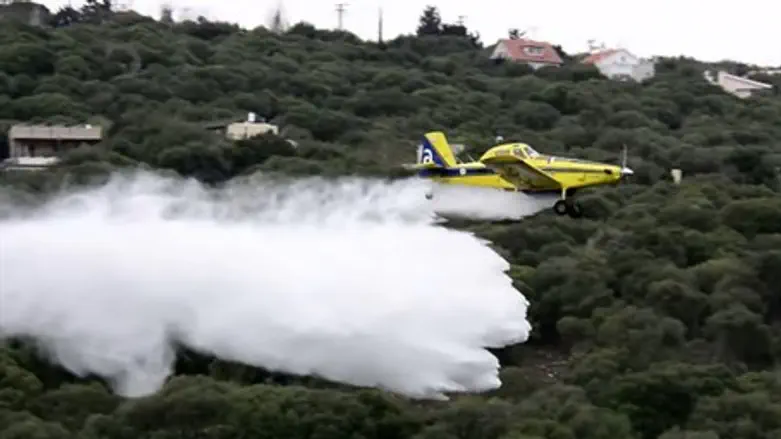 Firefighting plane (illustration)
IDF Spokesperson Unit
Israelis nationwide celebrated 68 years to the modern Jewish state on Independence Day Thursday with a traditional barbecue, but far less friendly and celebratory smoke filled the air at the entrance to Jerusalem as a massive fire broke out.
The blaze caught adjacent to a forest right by an organic farm located at the northwestern entrance to the capital, near Emek Haarazim.
Eight firefighting crews were dispatched, together with four firefighting planes, and went to work trying to control the fire. Driven by wind and heat the fire spread towards Ramot, a neighborhood in the northwest of Jerusalem.
Hikers were present in the forest right near the fire, but there have been no reports of anyone wounded in the incident and there have been no evacuations from the area.
The crews were later able to gain control over the blaze.
Jerusalem's fire wasn't the only blaze recorded on Thursday, as another large brush fire burst out adjacent to Kokhav Hashahar, a town located in Samaria's Binyamin district.
Five firefighting crews were sent to the town accompanied by a plane, out of concerns that the flames might reach the homes in the community.
Authorities asked hikers to avoid several nature sites on Thursday due to the large amount of people present there already filling them to maximum capacity. The sites included Ben Shemen Forest, Rosh Ha'ayin and Hulda, as well as Hakishon Park.
A number of national parks and other nature sites were also reported to be full of visitors, with authorities asking the public not to further pack the sites.